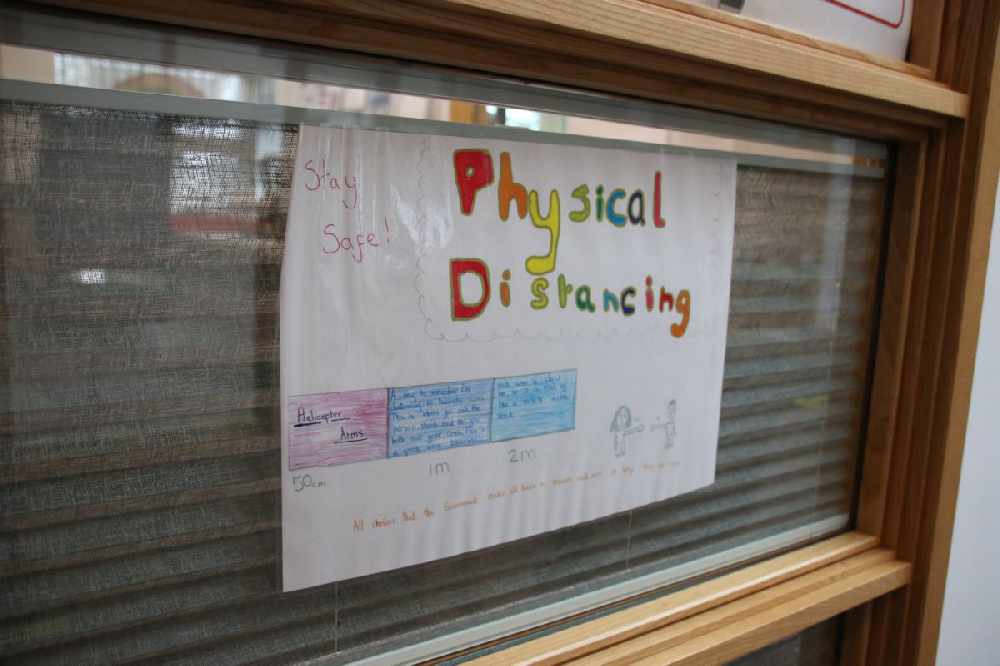 The Acting Education Minister has told Channel 103 'we've just got to carry on in this time of crisis', despite sympathising with his predecessor's frustration over schools which led to her resignation.
Senator Tracey Vallois stepped away from her role as Education Minister last Sunday, after disagreeing with the decision to reopen schools this week and claiming that her 'fight to be listened to was dismissed a number of times'.
Deputy Jeremy Macon admits he has also found it difficult, but agrees with medical advice that children should be in the classroom.
"Of course we were there challenging what STAC were saying about the advice about how it was going to be implemented.
"Some of the suggestions that we made weren't taken on immediately, but then were later incorporated. It's been incredibly frustrating for us as Ministers, so I absolutely understand the frustration that Senator Vallois has been in because I've been in those meetings as well.
"But, for me, we've just to carry on in this time of crisis, supporting our students and our community as best as we can."
Despite Senator Vallois' concerns, primary school attendance (as of Tuesday) is around 93% and 84% for secondary schools.
At St Martin's School, which was visited by Deputy Macon and the Chief Minister on Wednesday, average attendance is 97%.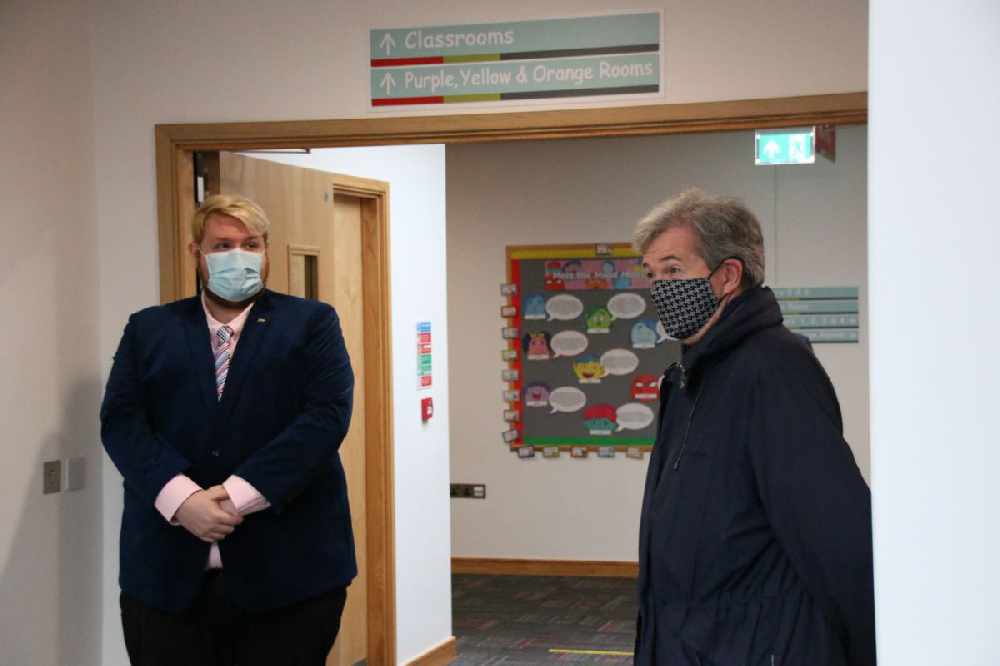 Following the news of Senator Vallois' resignation, the NASUWT piled on the pressure even further by calling the situation in schools 'untenable' and accusing the government of failing to adequately meet its responsibilities to keep staff and pupils safe.
The union described how some pupils are told to bring blankets into school and teachers are leading classes in coats, hats, and gloves because the classrooms are cold, with windows and doors open to reduce the possible spread of Covid-19.
Deputy Macon - who has told Channel 103 that he wants the role of Education Minister permanently - has responded:
"We're in a pandemic. It's not an ideal situation, I totally understand that, of course there are going to be teething problems.
"We (Deputy Macon and the Chief Minister) were speaking to the (St Martin's School) headteacher and we went into one of the classrooms. The windows were open and the doors were open, and she said what we've done is put the temperature up in order to compensate and the classroom was OK.
"We've had a great tour from the headteacher, pointing out all the various safety measures that they put in place, and her message is that schools have done as much as they can in order to ensure the safety of children.
"Yes of course we do need to manage and we do have to adjust what we do, but overall the need to have children in schools is so important."
The headteacher of St Martin's School says her staff feel like everything possible has been done to keep them safe in school.
Whilst admitting that some parents have been a bit more worried, Jenny Posner hopes regular communication will help to reassure them.
"Our parent community are amazing. They're really supportive, we have a very open communication so they come and speak to me and ask me questions and I'll always take time to answer them.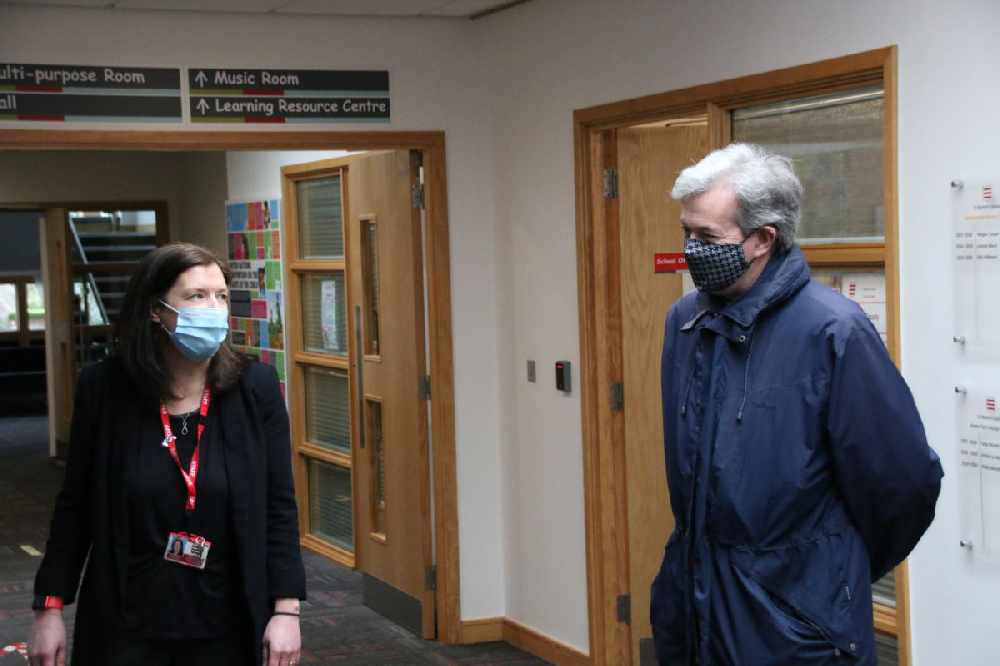 Jenny Posner speaking to the Chief Minister.
"Hopefully they feel reassured by that and by seeing their children smiling at the end of the day."
1900 school staff and 1500 students took a voluntary PCR test between 1 January and 10 January, with fewer than ten of them testing positive.
Rapid tests to detect Covid-19 are due to be rolled out in Jersey secondary schools on a weekly basis.
The lateral flow kits, which will be used to test students and school staff, can produce results in an average of 30 minutes.
If someone tests positive, it will be backed up with a PCR swab, due to a rate of false positives with the rapid tests.
Some concerns have been raised over the tests being voluntary.
"I appreciate that concern, but it might also just be logistics and about getting your child to where the tests are, and I think that will change when we have the lateral flow tests which will be happening within the secondary schools.
"I think we will see a change once it's there." - Deputy Jeremy Macon.
PCR swabs are due to be carried out on school staff and Year 11 to 13 students next half-term following the rollout of the lateral flow tests.
Deputy Medical Officer of Health, Dr. Ivan Muscat, says the quicker tests, although not as sensitive as the PCR swabs, can be really beneficial.
"It is a simple straightforward test that can be carried out quickly, it gives you a quick turnaround time and it picks up the more infectious individuals, which are of course the greater threat in any particular scenario.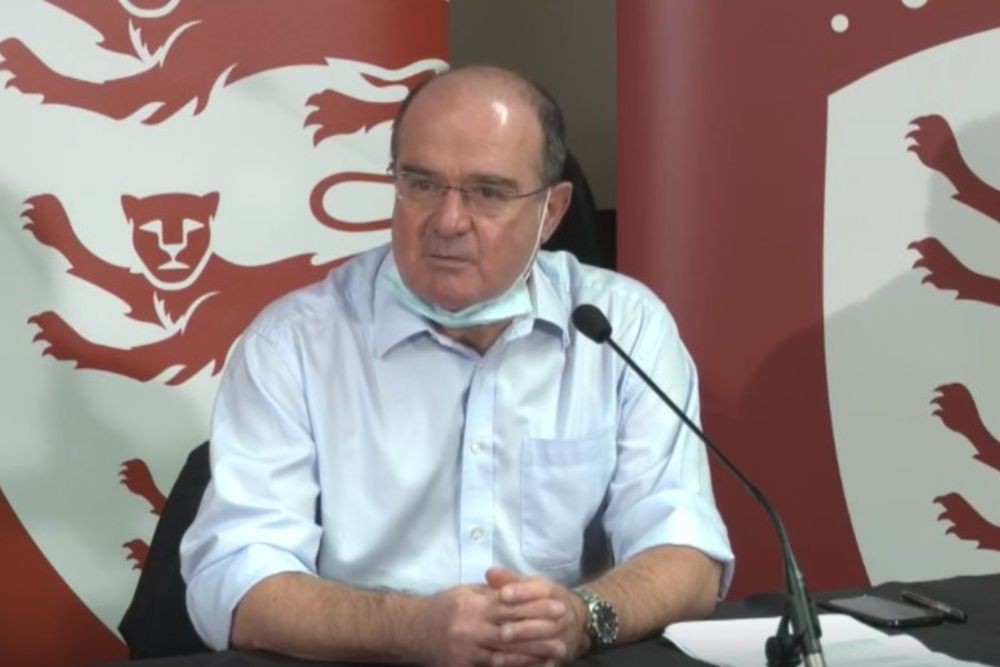 "So if you do it on a regular basis, then you pick up the more infectious people before they've managed to transmit the virus to many other people."
Another reason given by Senator Vallois for resigning as Education Minister was claiming to have not had answers to her questions on the new variant of Covid-19, given its higher transmissibility.
The Deputy Medical Officer of Health admits he's surprised that no samples sent off for testing have yet shown that someone in Jersey has tested positive for this new variant.
None of the seven samples were of the new variant, which was first detected in the UK and has spread to many other countries.
Dr. Muscat says while it is more transmissible, it does not cause more severe disease.
"Ten samples are being sent every week.
"The severity of disease in secondary school children, and especially in primary school children, is very low indeed. They normally either have no symptoms or very mild symptoms."
He's also told Channel 103 that he stands by the advice that it is safe to reopen schools, which he says is proven by the decreasing infection rates across the island.
Jersey is now down to 283 known active cases of coronavirus.
6 through planned workforce screening, 1 through inbound travel, 1 while individuals were seeking healthcare, 5 through contact tracing. The number of active cases in the Island is 283.
168 cases are symptomatic and 115 cases are asymptomatic. 5 are in hospital (-).

— Government of Jersey (@GovJersey) January 13, 2021
"We are pushing down on infection rates in both the community and in schools - and to reiterate that infection in schoolchildren due to Covid, new variant or not, is of very low severity.
"It does not cause severe infection in children."
Schools reopening was the first phase of relaxing Covid measures following the significant drop in active case numbers.
STAC is due to meet next Monday (18 January) to decide whether to recommend allowing non-essential retail, close contact services and indoor recreation to resume from 25 January.
Dr. Muscat has vowed to act 'proportionately' when deciding on this with other health professionals.
"Opening schools was by far our greatest priority because of the very negative impact closure of schools have on children.
"We have pledged to put children first and we will continue to pledge to put children first."