WIN with MUG Trade Talks in association with Norman Piette - STICKER PATROL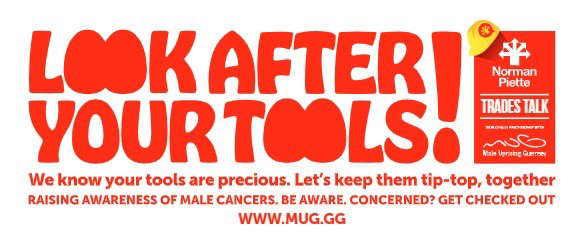 We want to get men talking if they have any concerns about male cancers (Prostate, Bowel, testicular and skin cancer) To get checked out. Men are the worst to open up about any health concerns they may have and its only when their wife/partner talk about it that they may go to the doctor.
Whatever the age, we want men to be more assertive, responsive and questioning of their symptoms or concerns. They should seek medical advice at the earliest possible juncture instead of procrastinating - which can have deadly consequences.
MUG Trade Talks in association with Norman Piette hopes to showcase even the toughest men can open up about their problems. Builders, gardeners, plumbers, electricians, carpenters....we all need to be more aware and "look after our tools"!
And to help raise awareness and get you talking - why not get a LOOK AFTER YOUR TOOLS vehicle sticker! Get that on your car, van, truck, tractor or even the forklift truck! And if we spot you out and about with the sticker on your vehicle you have a chance of winning a £500 voucher to spend at Norman Piette.
So don't delay pop into Norman Piette or Island FM reception, grab a sticker and get that on your vehicle today!