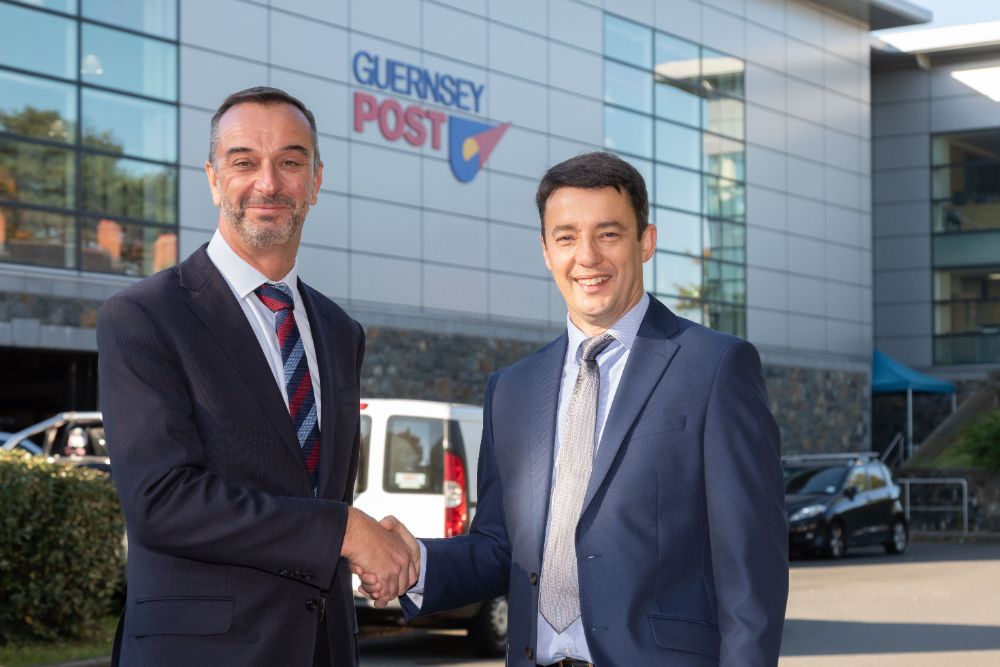 GE CEO Alan Bates (left) and Guernsey Post CEO Boley Smillie (right).
GE and Guernsey Post mount solar panels on Post HQ roof.
The installation of the largest solar photo-voltaic system in the Channel Islands has been completed at the Guernsey Post Office.
The project finished just over a year after Guernsey Electricity and Guernsey Post announced their plans for the partnership.
The panels installed will produce more than 200,000kWh each year, which is equivalent to the electricity required to power Guernsey Post's 82 electric vans, with some energy to spare.
Alan Bates, Guernsey Electricity chief executive officer, says: "Electricity is now being generated from the 654 panels mounted on the roof of Guernsey Post and is feeding directly into the Island's network, resulting in all islanders benefiting from locally produced solar energy."
The project progresses Guernsey Electricity's aim to introduce community scale renewable generation, which is owned and operated by the company.
The panels reduce costs with solar panels usually accounting for about 30% of the total cost and help the environment as they do not produce any greenhouse gasses.
Boley Smillie, Guernsey Post chief executive, says: "Partnering with Guernsey Electricity has been a great success and we're both incredibly proud of the end result."