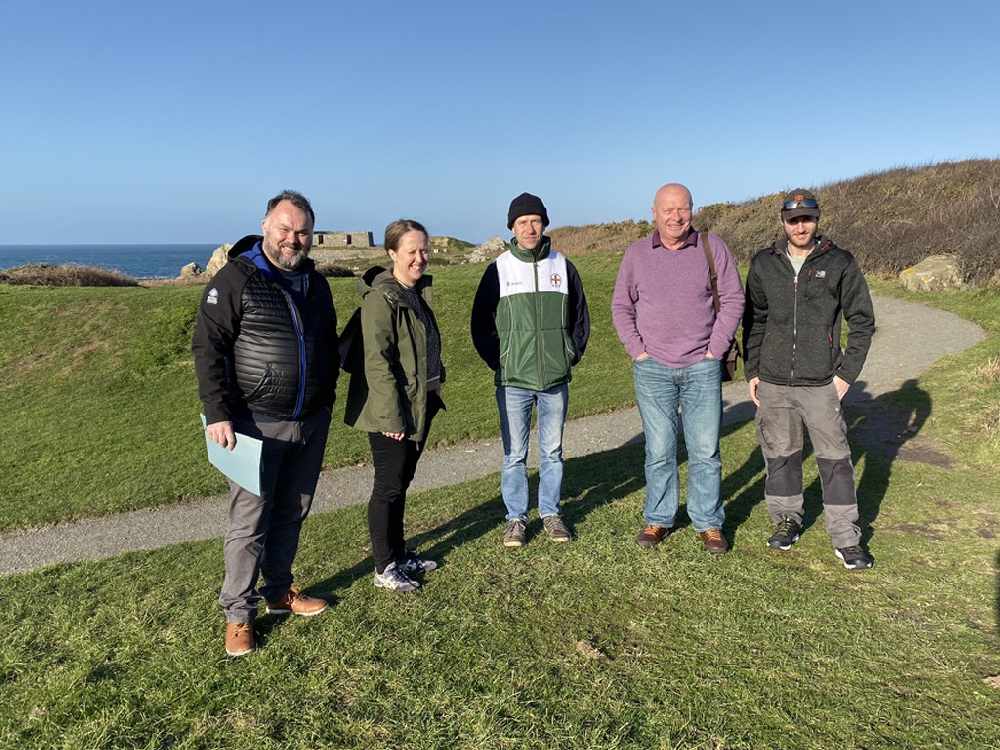 Organisers inspecting the range at Fort Le Marchant
Organising Committee is working closely with all sports on planning requirements ahead of July 2021.
With the Guernsey 2021 NatWest International Island Games just over 500 days away, members of the Organising Committee are working closely with all sports on their planning requirements ahead of July 2021.
"Initial invitations have been sent out to the 23 member Islands, and they've all confirmed that they will be bringing teams over in July 2021" said Games Director, Julia Bowditch.
"Provisional numbers are high, and it looks like this could be the largest Island Games to date".
Fourteen sports will be featured during Games week 3-9 July 2021, with more than 25 venues being used all over the Island.
Members of the Organising Committee are currently in the process of visiting all of the sites and meeting with the sports' organisers to go through details for the week.
"Five hundred days may seem like a long time, but we have a lot to do" said Sports Director Pete Vidamour. "Since we can now say that the Games are next year, this seems to have spurred people into action".
"As well as familiarising ourselves with the venues, we have a list of questions that we ask on the site visits which covers everything from facilities to insurance details, catering availability,n accessibility, wifi connectivity... everything we can think of, really. This is allowing us to compile a full list of requirements ahead of the Games so we can ensure that competitors, officials and spectators will all have the best experience possible" continued Pete.
"A number of the sports are already used to hosting events and, for an Island of this size, we have some excellent facilities and
planning is going well. This is mostly due to the many unsung heroes in all sports working behind the scenes to ensure we have everything in place ahead of July 2021."
There will be a number of shooting events planned during the week, and the Organising Committee visited the range at Fort Le Marchant last weekend to go through the requirements for the full bore competitions. Peter Jory, a former Commonwealth Games competitor, said "Shooting has featured in every Island Games since the first one in the Isle of Man in 1985. We've got to know a number of the competitors and team managers quite well, and are looking forwardto welcoming them to Guernsey, as well as hosting what should be an excellent competition. As part of the Games, we're purchasing some new electronic targets, which will be a great legacy item for our sport".
A draft programme for all sports is now in place, along with initial plans for the opening and closing ceremonies. In addition, the organising committee will have to plan over 200 medal ceremonies during the week.
"It doesn't matter if you're a fan of football, archery, shooting, tennis or athletics, there is going to be something for everyone" said Julia. "All of the Islands are looking at sending their best athletes, so we're expecting the quality at all sports to be of a top standard. We're also looking at a number of supporting events based around the Games, so there really will be something for everyone. As the Island Games are known as 'The Friendly Games', we're looking forward to giving everyone a good Guernsey welcome".
The Games will take place 3-9 July 2021. The fourteen sports are:
Archery
Athletics
Badminton
Basketball
Bowls (Indoor)
Cycling
Football
Golf
Sailing
Shooting
Swimming
Table Tennis
Tennis
Triathlon