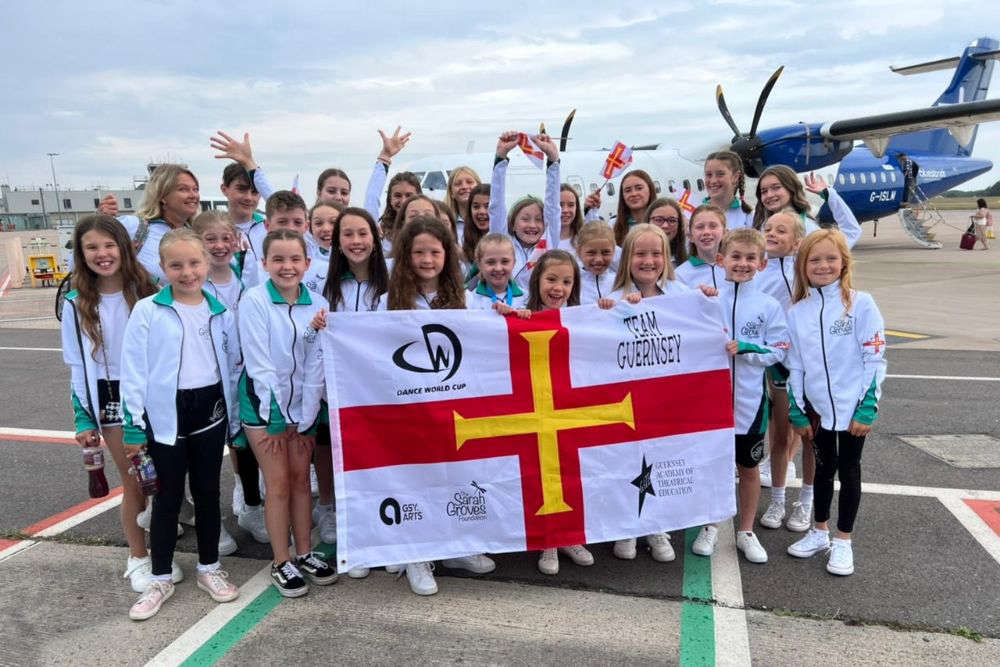 The dancers are travelling to San Sebastian in Spain to compete against 62 other countries from around the world.
More than 120,000 dancers aged from 4 to 25 will compete over the next week in over 180 categories.
Ellie Hicks is a student at the Guernsey Academy of Theatrical Education (GATE) and is part of Team Guernsey heading to Spain.
She has competed at the finals once before and has been recalling what it was like:
"It was incredible. My group won the Song & Dance and I just hope we can win again this year. The standard is really high; even just watching other teams is inspirational to see how they train.
I train in all different styles - ballet, modern, tap. I'm going with a jazz solo, a lyrical solo, and a tap solo this year, I'm also in three groups but I think there's 15 going in total. We are just all really excited and determined to get going and just can't wait to be there."
Team Guernsey is made up of students from GATE, the Starlight Academy, and the Guernsey Irish Dance Academy, who will compete under the Guernsey flag across various dance styles.
🌟 WE HAVE ARRIVED 🌟 And just like that the first of our team have arrived in Spain! Lots of updates will be coming...

Posted by GATE on Thursday, June 23, 2022
GATE's Co-Principle, Catherine Webster, has been telling Island FM about the atmosphere at the competition.
"It's just so totally inspiring because we are quite a small community, so to go and see these dancers from other countries - even just the way they train, you'll watch the nationals and you see people from the actual countries dancing their national dances - it's an amazing experience.
We selected our team back in September 2021, and we started rehearsals towards the end of October. We would do solos, duets, trios during the week, then every Sunday morning we would go to our minis, juniors, and seniors, and rehearse their groups.
It's been quite a long rehearsal period but everybody's been so keen and raring to go."
Guernsey last competed at the finals held in Sitges Spain in 2018 where they won a number of medals, including gold.
"The competition is really tough. Team England is huge and they're competing against the best from all the dance schools, and not just England, all over the world. Yes, we would love to, but to come back with any medals is a massive achievement."
Each of the dancers will sport a special Team Guernsey kit sponsored by the Sarah Groves Foundation.

Credit: Pierre Bisson
Vic Groves from the foundation says they were keen to step in after the original sponsorship fell through.
"We were so pleased to support the Guernsey Dance Team to help them get to the Dance World Cup to represent the island. Sarah's mission in life was to enhance young lives, so we are always looking to help our local young people, and this certainly fits the bill.
Sport was very important to Sarah, so it was a natural fit to support a cause that blends two aspects of her life. We are very proud to see these young competitors with Sarah's name on their kit, and we will be rooting for them as they go for gold."
Competitors will wear their uniforms to travel, and at the competition.
The 2022 final runs from 24 June to 2 July.