Hundreds gathered outside Guernsey's Royal Court ahead of the States debate.
Some, calling on politicians to press ahead with agreed reforms of the Abortion Law; others, wanting to put a stop to the law being passed under any circumstances.
Island FM has been speaking to some of the protesters rallying outside the court.
Joe is a Doctor and says that politicians should give women the choice.
"I believe that women should have the right to choose over their own bodies and their own healthcare. I don't think anybody should be forced to make decisions about their own healthcare and I don't think it's moral to force a woman to term a baby that she feels she cannot deal with and that she can't take good care of.
"At the end of the day, I know it's a complicated issue, but I think the only person who is placed to really make that decision is the woman who is pregnant."
Others at the protest have been in discussion with some States members.
"I wrote to them (States deputies) and I got quite a few responses back and I was really happy with that. Mostly men actually and every response I got was vote yes.
"More women need to be heard. I think that religion has no place in politics, and a lot of the deputies here are letting that get in the way of their role. It is a women's choice, it is a man's choice as well if they're the father, but that's their personal decision to go through."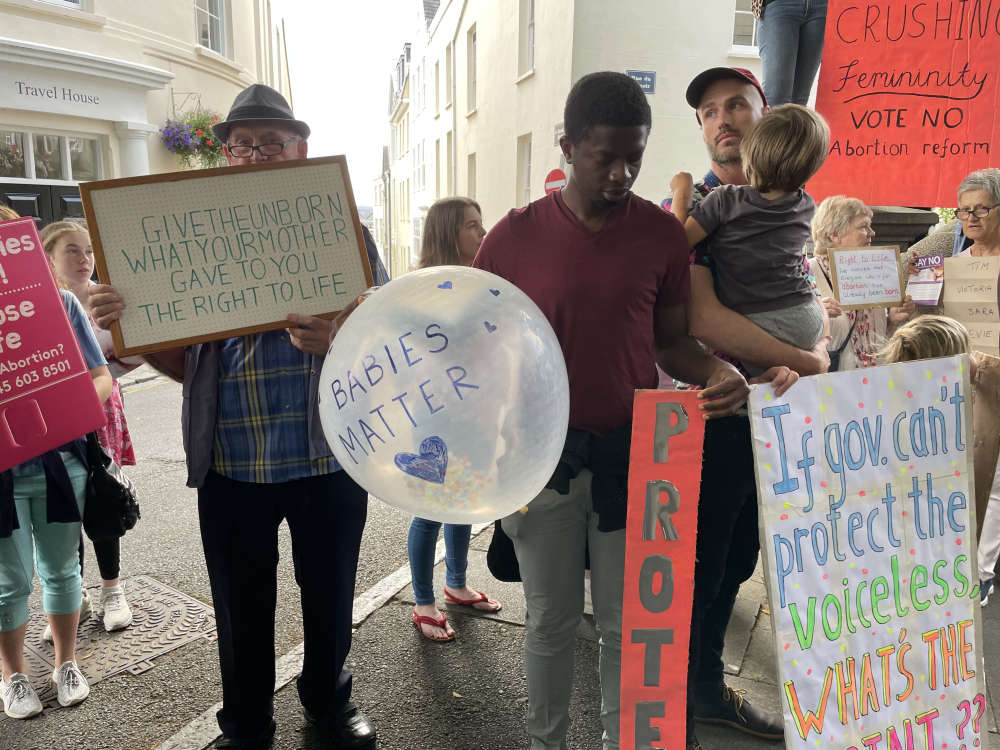 Jean believes Deputies should vote against the proposals entirely.
"I think it's very wrong and I think it's leading society down a really bad road. When does it stop? We have to stop it somehow, and that's why I'm here - to object to this law."
Jesufeus also expressed his views on the topic.
"I was once a baby, but now I'm a grown man. Every baby terminated is one person in the future who could actually do something great. No to abortion - that's why I'm here."
The rally was organised to oppose a sursis motion by Deputy Carl Meerveld to halt the changes.
Deputy Meerveld has defended his attempt to delay the motion saying their implications will 'create an unacceptable moral, ethical, and legal deficit.'
States members were greeted with the crowd on their entry to the court.