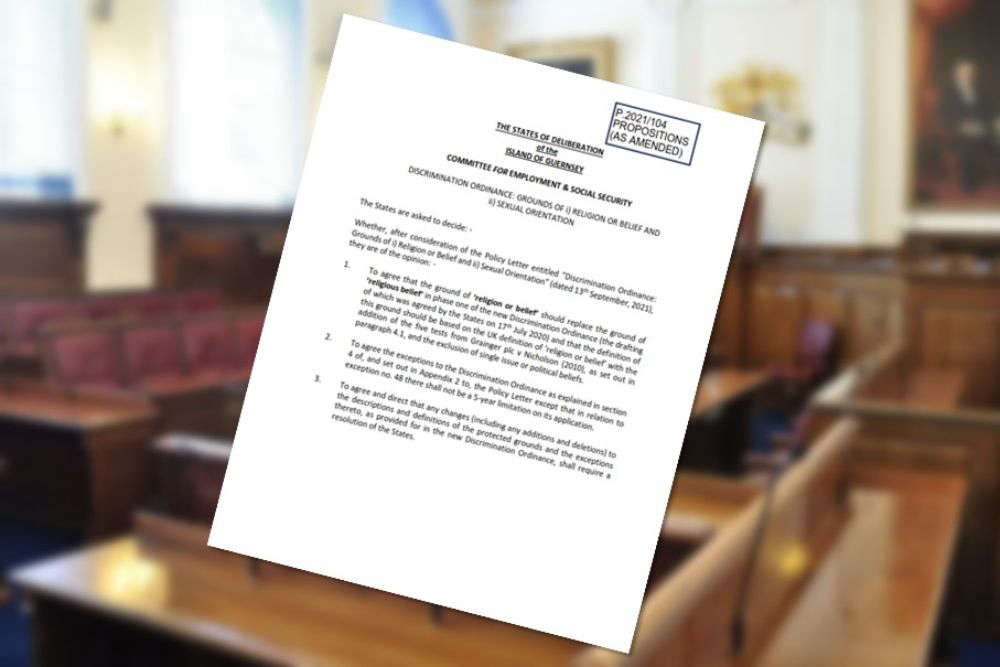 An anti discrimination law will come into force in Guernsey in a year's time, after deputies voted for an amended version.
It took deputies nearly two and half days to wade through the 17 amendments laid to the Prevention of Discrimination 2022 Ordinance.
Some of the technical amendments went through on the nod, while others took up hours of debate.
The most controversial was Amendment 8 from deputy Chris Blin which divided opinion in the Assembly and among many islanders.
High-profile online and social media campaigns were launched by equality and disability rights groups, who gathered outside the Royal Court to greet deputies arriving for the debate.
Injustice anywhere is a threat to justice everywhere. #DiscriminationGsy pic.twitter.com/fLVOh3go3j

— EqualityGsy (@EqualityGsy) September 28, 2022
Some, including the Dean of Guernsey, called for it to be withdrawn. A number of deputies, including Carl Meerveld, Andrea Dudley Owen and Lyndon Trott said that people shouldn't try to interfere with due States process:
Well what next? We don't bring an amendment on tax, because people are offended their taxes are going up?"
The amendment asked that small businesses be exempt from a legal obligation to alter their premises or protect carer status while the law bedded in.
Although, as deputy Lindsay de Sausmarez pointed out, deputy Blin's amendment didn't mention a time frame:
"If what he hoped to achieve was a delay, rather than a permanent exemption, then why didn't he draft an amendment to that effect? Doesn't he think that people with disabilities have been waiting long enough already?"
Many spoke against it. Deputy Steve Falla wasn't convinced that small businesses needed an exemption:
"Small businesses have a 'can do' attitude, they are versatile, flexible and fleet of foot, with a palpable human touch. They care about their staff and go out of their way to look after them."
Debate was halted after a successful guillotine motion from deputy Gavin St Pier. The voting on Amendment 8 saw it defeated, by 26 votes to 9 with 1 abstention.
In the end, deputies unanimously approved the Prevention of Discrimination 2022 Ordinance with 10 amendments carried.
33 Deputies voted in favour and none against.
Islanders have been celebrating online, calling this a historic moment for Guernsey:
Pressing Pour in the historic final vote of the Prevention of Discrimination ordinance which ends up getting unanimous support. #HistoryMadeToday pic.twitter.com/jsADANj7V8

— Sasha Kazantseva-Miller (@sashakmiller) September 30, 2022
Delighted that, after far too long and so much hard work from many, the Discrimination Ordinance was finally passed this afternoon. A historic day.

— Deputy Heidi Soulsby MBE (@HeidiSoulsby) September 30, 2022
Many many congratulations to @EqualityGsy & @GDA_Disability as we finally unanimously vote in #Guernsey Equality Legislation.

This has been years in the making & we owe @PeterRoffey5 @Lindsay_Gsy @GollopGuern @Steve_Falla @MsTinaBury a massive thank you for their tireless work! pic.twitter.com/tKZesrxQlB

— Jayne Ozanne 🇺🇦 (@JayneOzanne) September 30, 2022