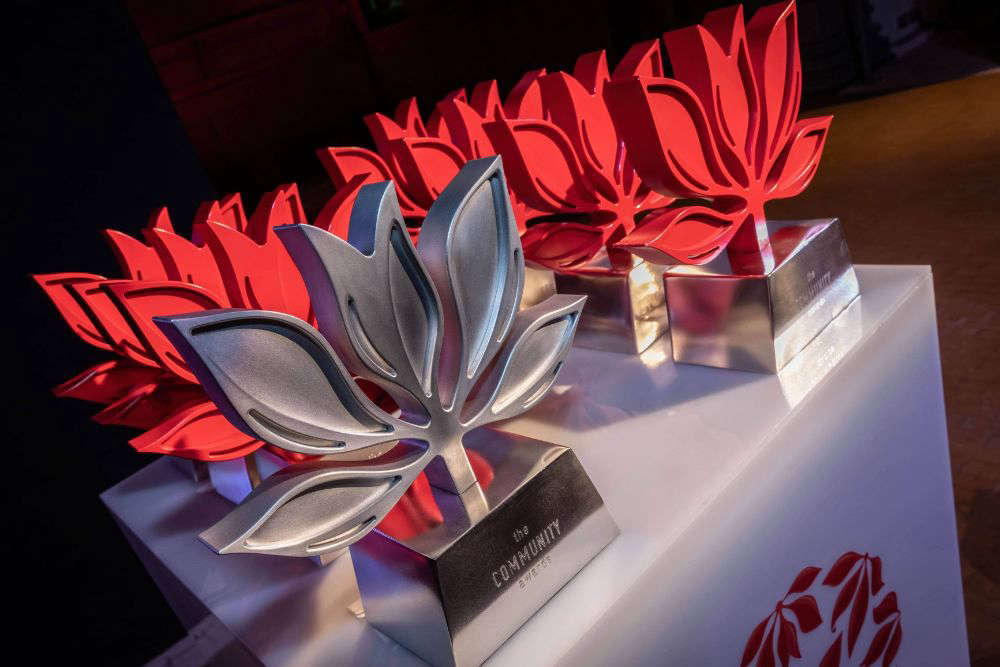 Image courtesy of the Guernsey Community Foundation
The children's charity Bright Beginnings has been awarded Charity of the Year by the Guernsey Community Foundation at their scaled back awards ceremony.
The presentations took place at Les Cotils today (3 May) after twice being postponed because of Covid; normally they are held with a much bigger audience at St James in the winter.
The Bright Beginnings Children's Centre was founded in 2016 and its mission is to enable every parent or carer to give their child the best possible start in life.
It offers free and paid for services and focuses on supporting new parents to ensure they bond with their children, with an emphasis on those with postnatal health issues.
Gerry Le Roy received the Outstanding Individual Achievement. She founded the Cardiac Action Group 25 years ago.
It has put up 37 Public Access Defibrillators across Guernsey over the past decade and has trained 4,500 people in how to use them:
"Just a week ago there was a gentleman and the staff in the area where he was a visitor had been trained by our Community Resuscitation Development Officer. When this man had a cardiac arrest they resuscitated him straight away and within 40 seconds he was up and talking to them."
The charity supports people recovering from heart problems and has funded and trained cardio physiologists to work locally. Gerry Le Roy says she hopes the award will raise its profile:
"It's the funding that we want really. That's the bit we want to come as a result of this, so that we can actually have sustainable funding so we can put all our time into education and awareness. And if people have actually put that money in place, then we can carry on knowing we'll be able to do that."
The Corporate Responsibility Award went to Sure Guernsey. The company has donated more than £250,000 to over 60 island charities and in addition, employees give their time each year to community projects.
St Sampson's jewellers Ray and Scott beat their Diamond Dream charity fundraising initiative by nearly £40,000, meaning more local good causes will receive a slice of the money raised. For this, they received the Fundraising Team of the Year Award.
The Guernsey Sports Commission's organisation of the 2021 Youth Games scooped them the Organising Committee of the Year.
The Summer Project took the Youth Award. Last summer, nine youngsters with additional needs gave up part of their holidays to take part in community projects like car washes, beach cleaning and creating a nature trail.
Finally, the Innovation Award went to Guernsey Mobility, Let's Go! It brings people with a wide range of mobility issues together to socialise and play sports and has come up with novel ways of addressing accessibility, like using balls with bells to help players with visual impairments.
At a glance, the full list of winners for 2021 is:
Charity of the Year – Bright Beginnings
Outstanding Individual Achievement – Gerry Le Roy
Organising Committee of the Year – Guernsey Sports Commission for the Island Youth Games
Fundraising Team of the Year – Ray & Scott
Corporate Social Responsibility – Sure Guernsey
Innovation Award – Guernsey Mobility, Let's Go!
Youth Award – The Summer Project