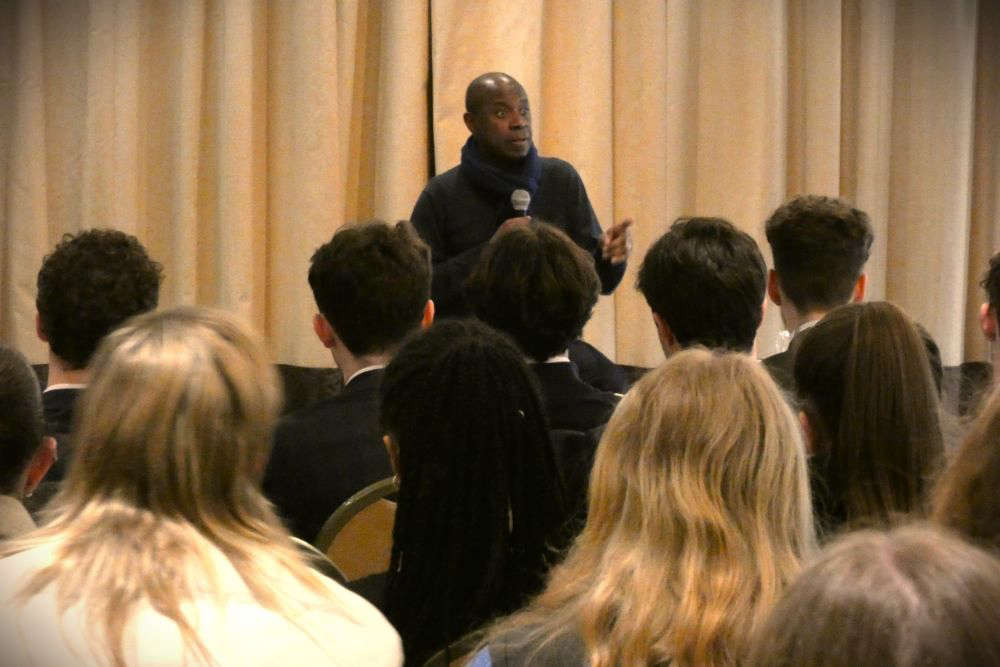 'Network Presenter of the Year', Clive Myrie, hoped to inspire a new generation of reporters when he hosted a careers talk with Guernsey students this afternoon.
BBC presenter Clive Myrie spoke to a room of 75 Guernsey media students at The St Pier Park Hotel this afternoon (9 March).
The pupils from the Grammar School and Elizabeth College listened as the journalist recounted his time reporting from warzones, epicentre of natural disasters, and multiple newsrooms.
The students then asked questions on unconscious bias, fake news, and the importance of being impartial.
Mr Myrie said he enjoyed engaging with the new generation of media producers:
"I talk to students on journalism courses at universities and colleges all the time.
I love seeing young people that want to get into this industry, replenish it, and give it new blood.
It's always good when I get invitations like this. I always follow them up."
He gave the students this advice:
"Work hard and be a human sponge. Absorb everything around you, news, opinions, and ideas.
Absorb it all and then see how can use those different elements to further your own career.
And just be the best that you can because no employer is going to say no to you if you're great, so be great."
Head of Media Studies at the Grammar School, Edward Gregson, says this was an excellent opportunity for the students:
"This has been absolutely brilliant because it links in precisely with what they're studying, which is the evolving media environment, and the complexity that social media has brought to traditional media.
Having these people come over is absolutely superb. It's so valuable for the students to see someone like Mr Myrie. He can be their role model."