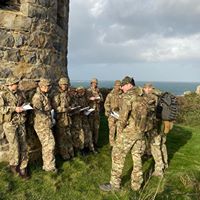 Cadets taking part in a map and compass exercise
Applications are invited for a new position of Commandant for the Channel Islands Army Cadet Force.
The Cadet Force is a voluntary youth organisation, sponsored by the army, designed to develop qualities of good citizenship in our young people and also give them some adventurous and challenging activities.
Colonel Ashley Fulford says the role would suit someone who has served in the Armed forces.
'The type of people that can apply are those who have worked with the cadet forces before or someone who has served in the regular or reserve army in an officer role,' he said.
Col. Fulford said the position would suit someone who has an affinity with young people and teenagers, who is prepared to volunteer some of their free time.
The ideal person would be able to give up a few hours a week of their personal time and few weekends a year and be prepared to attend summer camps, he added.
'There's an immense amount of satisfaction in seeing our young people develop and grow and prepare them better for life. It gives all us leaders a complete degree of satisfaction and a sense of worth in what we are doing.'
To apply, email Association Staff Officer Mrs H Owen wx-offman@rfca.mod.uk by Friday 10 January