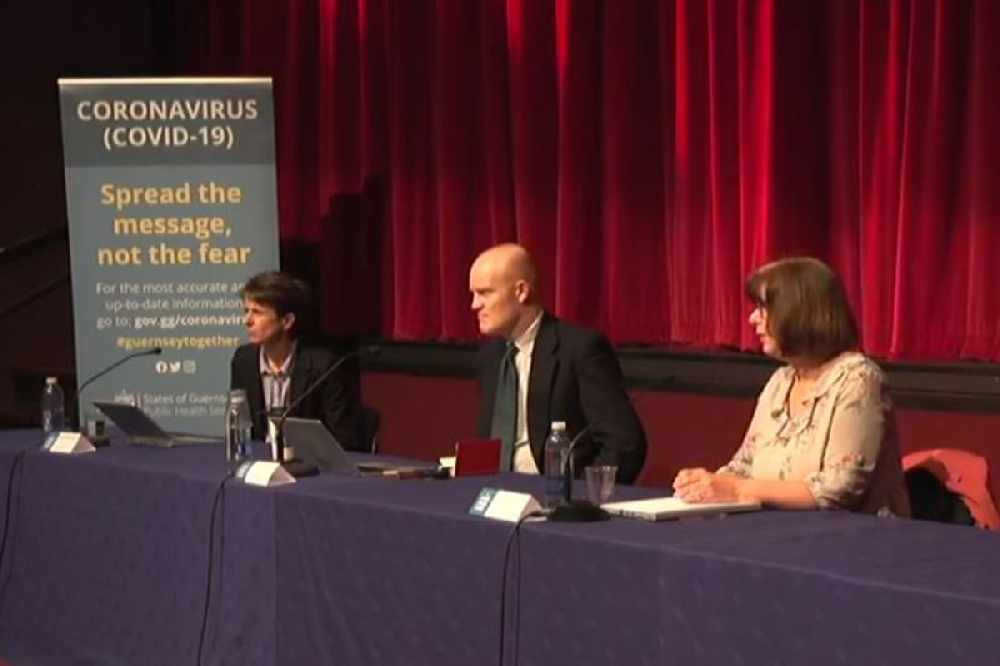 Credit: States of Guernsey
People in Guernsey are being ordered to stay at home for two weeks from midnight tonight (00:01 on 25 March) to tackle the spread of coronavirus.
The Civil Contingencies Authority has introduced new emergency regulations telling people to stay at home and away from others.
It's after the first case of the virus being transmitted in the island was confirmed.
23 people have now been diagnosed with coronavirus in Guernsey. 398 samples have been taken, of which 286 are negative. 89 results are pending.
"The Public Health Team having identified a case of community seeding together with reviewing the broader local evidence of COVID-19 cases and international developments has decided that the most appropriate course of action is to introduce these strict measures for an initial period of 14 days. This will give us time to commission and start on-island testing which will give us a clear idea as to the extent of on-Island seeding.
"The single most important action we can now take as a community in fighting the coronavirus is to stay at home in order to protect our Island and= our medical infrastructure and save lives." - Dr. Nicola Brink, Director of Public Health.
Three new measures will be introduced from midnight, which are:
* Telling people to stay at home, except for very limited purposes.
* Closing non-essential shops and community spaces.
* Stopping all gatherings of more than two people in public. The only exceptions are for people who live together and where people absolutely have to for work.
The relevant authorities, including the police, have been given the power to enforce these rules. People who don't comply could be fined.
"These measures introduce the most far-reaching deprivation of personal liberties since the Second World War. These are not decisions that we have taken lightly. The impact of these decisions are far-reaching but I am absolutely certain that it is the right thing to do to protect our community
"Stay in regular touch by 'phone or video call with friends and family. We will continue to update gov.gg so that you have reliable source of facts. This decision does not change my other advice from yesterday: don't panic; keep calm; stay strong, and maintain good personal hygiene amongst your household.
"Rest assured that the whole of government is mobilised to continue to do everything we can to protect you, your families, as well as ours. We will never compromise or risk that overriding objective." - Deputy Gavin St Pier, President of the Policy & Resources Committee.
People should only leave home for one of four reasons:
* Shopping for basic necessities such as food and medicine, but as little as possible.
* Up to two hours exercise a day, to include walking, cycling, running or sea swimming or other open sea activities alone or with people you live with. Those who go sea swimming have to do it with someone else present for safety reasons, but they must comply with social distancing.
* Any medical need, if told to by a healthcare worker or told to having called 999, or to provide care or help a vulnerable person.
* Travelling to and from work, but only where this absolutely cannot be done from home.
They have been described as 'exceptions' though.
The following businesses have been ordered to close with immediate effect:
* Pubs
* Clubs
* Cinemas
* Restaurants/cafes
* All non-essential retail stores – essential retail stores are limited to food and pharmacy goods.
* Libraries
* Community centres
* Youth centres
* Indoor and outdoor leisure facilities – such as soft play facilities and outdoor play areas
* Communal places within parks such as playgrounds, sports courts and outdoor gyms.
* Places of worship
* Hotels, hostels, bed and breakfasts, campsites, and boarding houses for commercial/leisure use (excluding permanent residents and key workers).
Anyone not sure whether they can open or not should call 01481 733017 or email educationsportandculture@gov.gg BEFORE opening.
All social events - including weddings, baptisms and other religious ceremonies have been stopped by the States of Guernsey. Funerals can go ahead and immediate family can attend.
Children of workers who have been identified as critical will be able to go to school and school transport will continue to be available for those who need it, including over the Easter Break. The government says this will make sure critical services can still be delivered - in particular for health and care workers.
Retailers will have measures in place from first thing tomorrow (25 March) in order to manage supplies and ensure people don't buy more than they need.
"This final and significant decision was made at 17.00 hrs and therefore, whilst planning has taken place, implementation of these plans is being pulled together this afternoon. We know islanders will have many questions following these announcements. We have attempted to anticipate questions that might be asked. These are now online at www.gov.gg/coronavirus . These will also be shared with the media for those who do not have access to the internet.
"The key take away message from this announcement is STAY INSIDE. I cannot stress this enough - if there really are any sceptics out there, even they, surely, have now grasped the importance of everyone doing what we have been saying – namely, you must follow public health advice." - Deputy Gavin St Pier.
These orders will initially last for the 14 days, at which point the States of Guernsey will review and relax them 'if the evidence shows this is possible'.