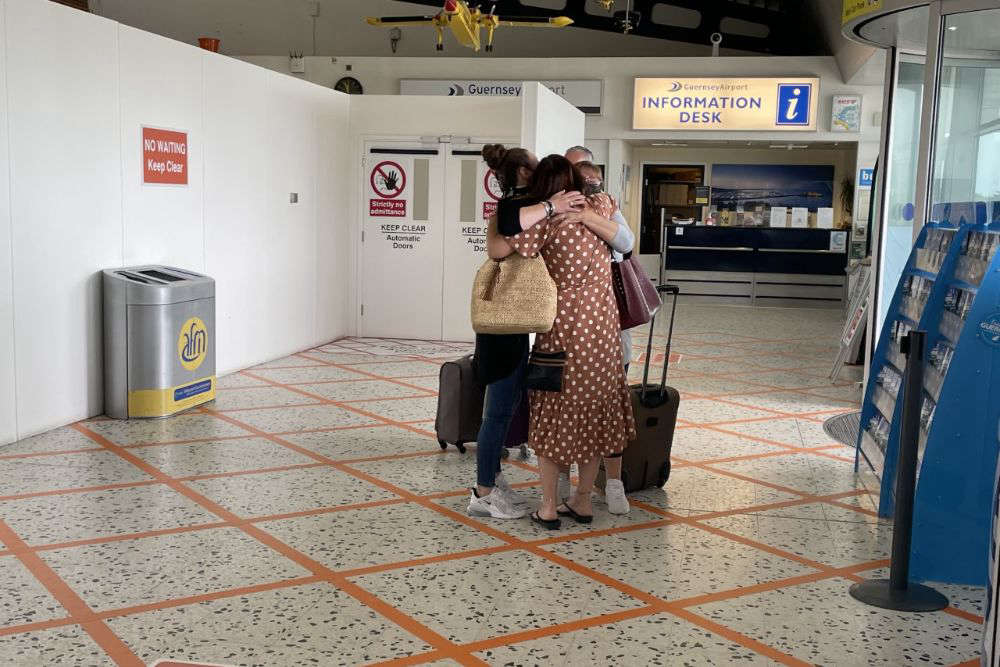 More families will be able to reunite when travel restrictions are further lifted on 4 October
Isolation is being scrapped for all passengers arriving in Guernsey from the UK and Common Travel Area from next month.
The Civil Contingencies Authority has announced it is further relaxing travel rules.
The CCA says fewer restrictions will open up options for people wanting to see friends, family and loved ones - as well as boosting the visitor and island economy.
From 4 October, all travel from the Common Travel Area (the United Kingdom, Republic of Ireland, Jersey and the Isle of Man) will be treated as a blue arrival regardless of their vaccination status.
They will need to buy a pack of five lateral flow tests and test themselves every other day - but they will not have to isolate for any period of time and there will be no other restrictions on them.
Arrivals who come to Bailiwick directly from UK red-list countries without passing through the UK will have to have a self-swab PCR at the port and isolate until they get a negative result to a further swab on Day 9.
Anyone travelling from a red-list country to the UK before travelling on to the Bailiwick will need to adhere to the UK's quarantine requirements (10 days) before travelling onwards.
They would then arrive in Guernsey as 'blue' arrivals.
For all other countries, travel requirements will depend on whether or not the traveller is fully vaccinated.
Fully vaccinated non-CTA arrivals will only be required to take a self-swab PCR test on arrival at the port but will not be required to self-isolate.
Unvaccinated non-CTA arrivals will need to take a self-swab PCR test on arrival at the port, and self-isolate until they take a second PCR test on Day 8 and receive a negative result.
Another significant change is to the acceptance of vaccination certificates from overseas:
"We've agreed to accept proof of vaccination from all international jurisdictions. That would be on condition that it is one of the approved vaccines. They will be considered a fully-vaccinated traveler if passengers can produce proof of that." - Deputy Peter Ferbrache
The period of time treated as the traveller's relevant travel history for the Travel Tracker will be reduced from 14 to 10 days.
"Since we began the process of enabling more travel on the 1st July, we've seen thousands of people able to visit friends and family, and badly-affected businesses finally able to welcome customers again. Traveller numbers have increased in the past three months, and at the beginning of September we've seen around a thousand arrivals each day, while at the same time cases of COVID have remained relatively low and we've avoided overwhelming our health service. It's not been an easy transition, but on the whole it has been a successful one." - Deputy Peter Ferbrache.
Booster jabs for islanders are also to be introduced this week.
Healthcare workers, care-home residents will be the first on the list and then vaccinating cohorts going down in age in-line with the JCVI guidance.
Dr Nicola Brink says its important that it is six months since their previous jab:
"We've planned for it. We are ready to go, we have all our documentation together and our suppliers are in place. We've identified our groups and we'll start immunisation this week.
"The other programme that is underway is the third primary dose for people with weakened immune systems which is very bespoke."
The CCA has also announced further rule changes which will take effect earlier.
From 23 September:
*people who can prove full vaccination no matter where the jabs were administered (AstraZeneca, Pfizer, Moderna and Jannsen) will be eligible to benefit from reduced restrictions on their arrival.
*people who test positive for COVID-19 will have to isolate for 10 days rather than the current 14.
*Under 18s identified as a direct contact of a positive case won't have to self-isolate - but will have to take lateral flow tests.
*19 and overs who are fully vaccinated identified as direct contacts won't have to self isolate - but will take a PCR test and lateral flow tests.
* 19 and over not fully vaccinated will have to isolate for 10 days, and also be tested (PCR and LFT)