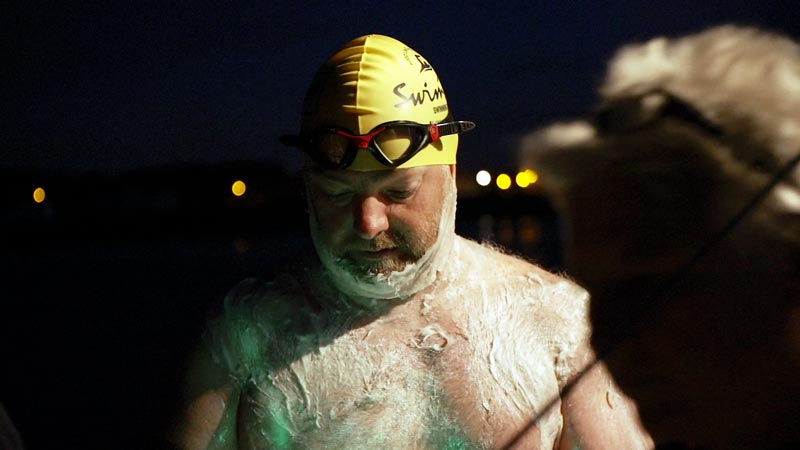 Photo taken from the film Sea Donkey
Conditions halt Adrian Sarchet's attempt to swim from Guernsey to France
Islander Adrian Sarchet was just six miles from the French coast when he was persuaded to give up on his attempt to swim from Guernsey to Dielette on Monday (10 August)
He's spoken to Island FM about having to stop.
"To be honest we didn't expect the tide to do what it did.
We expected it to push us up closer to Alderney and then as the tide turned to bring us down closer to France.
When we got into position we were a little further south than we should have been. Instead of it pushing us north then south it was pushing us square straight in the face. So when you try to make ground to get to France and the tide is running at about 4.5 km an hour towards us it's hard. I can only make about 4km an hour so it means we were making no ground."
Adrian could have continued as the tide would change at some point but it was decided it was to dangerous to do so. This would have meant getting no closer for three hours with another six or seven to swim after that with an estimated arrival time of around 6am.
Throughout his preparations his team have worked very closely with the authorities on safety and Covid-19 issues. They were conscious of their guard-boats being close to an unfamiliar coast at that time of day with the added pressures of not being able to get off the boat if anything went wrong because of landing restrictions.
Adrian remains incredibly buoyant and optimistic and he is already planning their next attempt at the next neap tide.