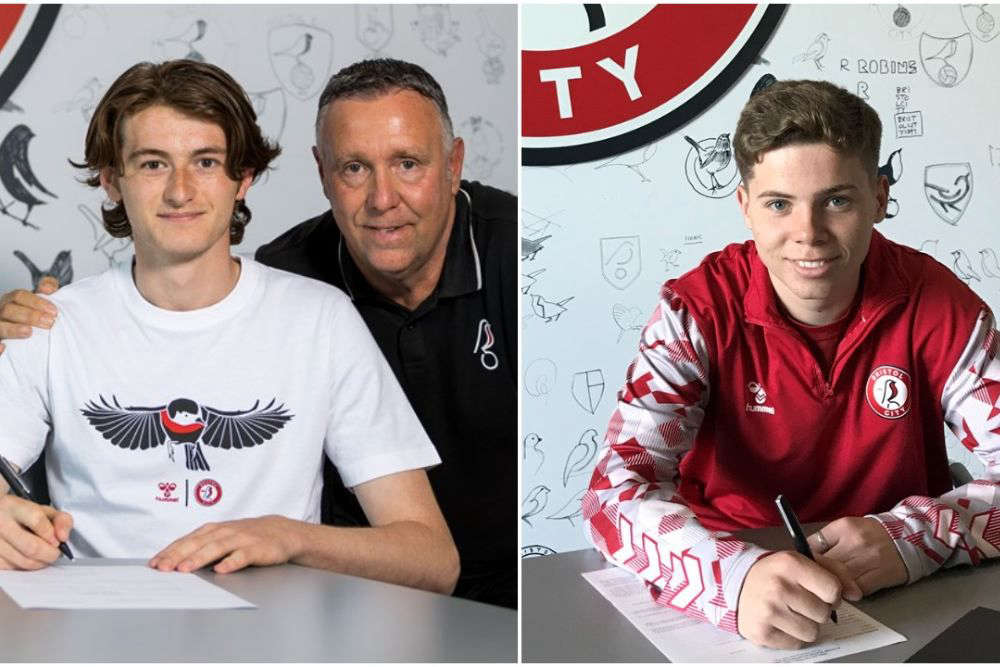 Two more of Guernsey's talented young footballers have joined Championship club Bristol City.
18 year old midfielder Ben Acey has signed a one-year professional contract following a successful trial.
Striker Tim Ap Sion, who is 16, is joining as a first-year scholar in the academy.
Ap Sion scored on his senior debut for Guernsey FC in April.
🏆 At our awards gala last weekend @benacey1's fine finish against @StainesTownFC was chosen as the @AztechSoccer Goal of the Season. 👏

Enjoy @BristolCity, Ben. 💚 🇬🇬 pic.twitter.com/IrwDayfysU

— Guernsey FC (@GuernseyFC) May 13, 2022
They'll be looking to emulate fellow Guernseyman Alex Scott, who is being linked with Premier League sides after becoming a first-team regular at Bristol City this season.
Everyone at Guernsey FC wishes Ben and Tim the best of luck at @BristolCity next season. Do us proud. Look after them @AlexScott89. 🇬🇬💚

Find out more at: https://t.co/De1kN4A5th pic.twitter.com/YHTm5jfX1E

— Guernsey FC (@GuernseyFC) May 13, 2022
We'd like to say a massive congratulations to our starboy, Ben Acey! Ben has been picked up by @BristolCity after an incredible season with @GuernseyFC! We're sure you'll smash it, and we'll be backing you all the way!#UpTheNorth 🔵🟤 pic.twitter.com/a2hq8RoW48

— Northerners AC (@NorthAC1892) May 13, 2022
Alex Scott signed for City as a 16-year-old in December 2019 and progressed through the Under-18s and Under-23s to become a first team regular with 41 appearances, including 35 starts this season.
He was recently named Young Player of the Year.
"We're really pleased that Ben and Tim are joining us after successful trials. The relationship with Guernsey football is now well-established – thanks to Tony Vance for his part in that – and we are looking forward to taking on the development and care of these young players." - Brian Tinnion, City Academy Director
"I am delighted for Ben and Tim, they both have a great opportunity.
Alex has proven that there is some serious talent in Guernsey and whilst these two will have to work very hard and develop fast to emulate Alex's achievements, their signings has cemented our pathway link that Brian and myself have worked at over the past few years." - Tony Vance, Guernsey FC Manager told Bristol City.
"Both Ben (pictured above) and Tim are in very good hands, it is over to them now. As with Alex, I am very proud to have helped them on their way and wish them well.
It is incredible how many people follow Bristol City now on the island and I'm sure Steve Lansdown will be a proud man!
Playing men's football for Guernsey FC is now a proven development tool for all to see and hopefully over the coming years there will be more following in these boys' footsteps."