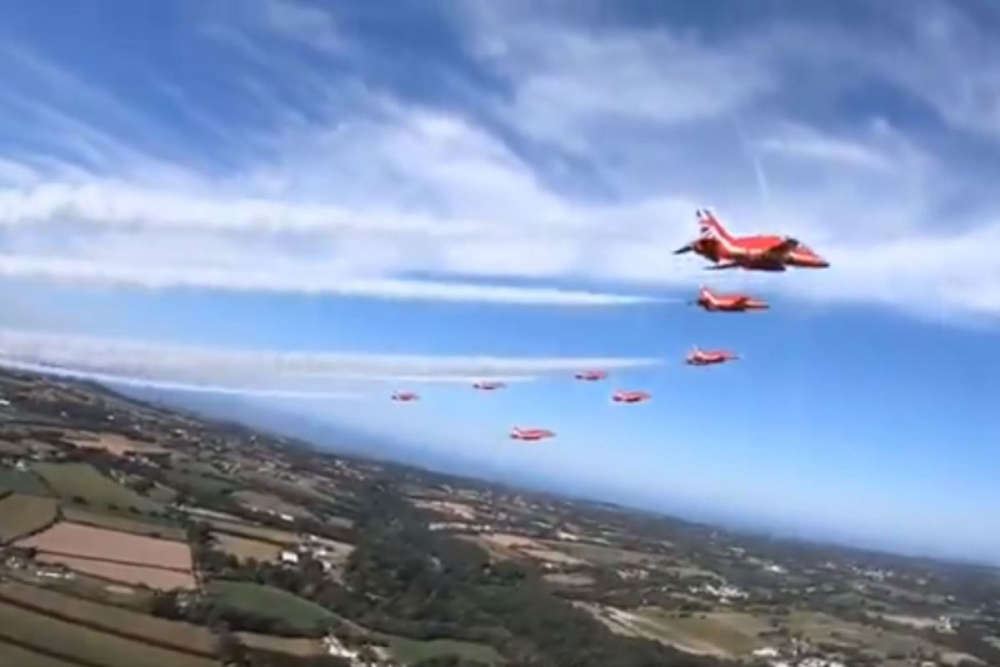 Credit: Red Arrows
The world famous Red Arrows are set to soar over St Peter Port Harbour, joined by a Mustang, the Bronco, and the Battle of Britain Memorial flight.
Islanders and organisers are keeping their fingers crossed that the weather holds for this morning's event (8 September).
Gary Elsen from the display team explains what we can expect to see;
"We've got some new aircraft this year. We've got the Bronco - which we've been trying to get for a few years, so I'm glad he made it.
Check out the Bronco arriving in Guernsey!

Keep an eye out for the @ChinookDisplay which is due in the next half an hour 👀 @RavenscroftGB pic.twitter.com/upe3DBYTGx

— Guernsey Air Display (@gsyairdisplay) September 7, 2022
We've got a Wasp helicopter, we hope to have the Seafire back, and everybody loves the Chinook helicopter.
Guernsey is very fortunate to be one of the few places in the country which has a seafront air-show. We're very lucky to get the Red Arrows and the Battle of Britain Memorial flight too.
It adds to the island and our tourism, and I think the locals enjoy it, and it would be great to make sure that it continues."
Some of the aircraft were on show at a 'Meet the Pilot' event on Wednesday afternoon, giving children a chance to see them before heading back to school today after the summer holidays.
It had to close early though because of thunderstorms overhead.
Some snaps from the Meet The Pilots event! 🇬🇬✈️@RavenscroftGB pic.twitter.com/3FR5iuMqtk

— Guernsey Air Display (@gsyairdisplay) September 7, 2022
This morning's forecast is for some heavy and thundery showers and winds from the southwest, moderate F4 to fresh F5.
Red Arrows' Squadron Leader John Bond says rain needs to be taken into account.
"Unfortunately Jersey has got a reasonably short runway and we can't land on it wet - so that's probably going to be our biggest challenge. It's just making sure the runway is dry for us to land.
We'll be keeping an eye on the forecast, and we don't cancel anything lightly - so it will be right up until takeoff when we assess the weather."
Cockpit footage of the #RedArrows arriving into Channel Islands airspace, and overhead #Alderney, today before landing at @JERairport. Always a wonderful reception in the Channel Islands and great to be back for @gsyairdisplay and @JerseyAirshow.#Guernsey #Jersey #JIAD2022 pic.twitter.com/mqpayHI5Og

— Red Arrows (@rafredarrows) September 7, 2022
Squadron Leader Bond added that it's always special when the Red Arrows are in the sky.
"I think it's something we all wanted to do from a very young age and being able to do it for a living is incredible. I don't think you'll ever quite get over the buzz. No matter how many hours or Red Arrow displays you've done, you always get that same buzz as soon as the smoke comes on."
Here's the full schedule (subject to change)
11:20 - Muscle Biplane
11:35 - OV-10 Bronco
12:05 - Navy Wings Wasp
12:15 - Navy Wings Seafire
12:30 - Mustang
12:50 - RAF Red Arrows