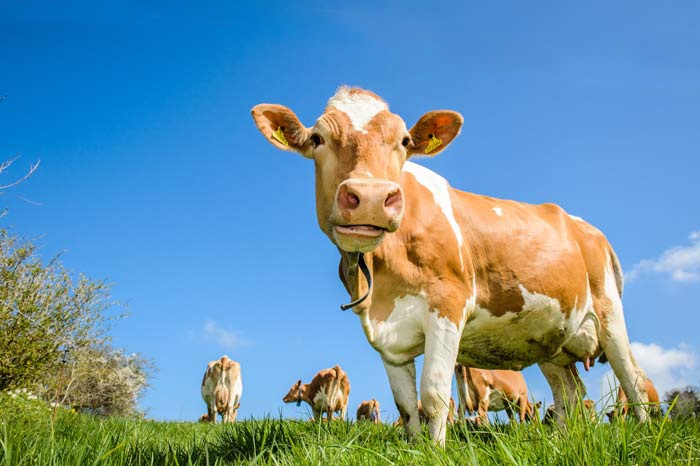 Investment in the Guernsey Dairy should be seen as an important part of the island's "Revive and Thrive" strategy, according to the president of Guernsey Farmers Association.
Dave Cowley said proposals to build a new dairy or refurbish the current facility would be a "tremendous boost" to the island's agricultural industry.
He said it will help support jobs and maintain the contribution that dairy farming makes to the island, financially and environmentally, as well as protecting the countryside and preserving of the world famous cattle breed. He hopes this will not be forgotten as the island looks to recover from the COVID-19 crisis.
Mr Cowley said farming provides employment, both directly and in various support roles, such as veterinary services, mechanics, and at the Guernsey Dairy itself.
"Since the island went into lockdown, healthcare staff and other frontline workers, like shop staff, have been singled out for praise, rightly so. At the same time, dairy farmers have gone largely unnoticed, but our lives have not changed. Our cows didn't know it was lockdown,
"We've carried on working seven days a week, throughout the lock-down, making sure islanders had a constant supply of fresh milk and milk products. And so have all the people working in support roles."
"It is critical now that it does not get forgotten as we move out of lockdown and begin to focus on recovery. Dairy farming in Guernsey is part of our heritage, and we are a home to a world-renowned breed. The industry has shaped the rural character of the island, and helps maintain it to this day, with our traditional small fields and miles of lovely hedgerows.
"If we are going to protect this, we need to have a modern, fit for purpose dairy, because without it dairy farming in Guernsey will go into decline. The current proposals would therefore be a tremendous boost to the industry, for decades to come."
Nearly half the island, by area, is agricultural land. Of that total, around half is used by dairy farmers, typically small fields, surrounded by traditional hedgerows and earth banks, which date back hundreds of years and provide habitats for local wildlife.
Cowley said liquid milk is possibly the only fresh product that the island is self-sufficient in. The other main commercial crop that are grown locally would be potatoes and mushrooms.
"With all the focus on environmental footprint, the island should be looking to become more self-sufficient, not less. So we have to start by protecting what we currently have."
The island now has 14 active dairy farms, with around 1,500 cows. Mr Cowley said farming in Guernsey is expensive compared to the UK and European markets. All feeds, fertilisers, building materials and equipment have to be imported, and the relatively small size of farms and fragmentation of land make it less intensive. Labour costs are also higher. All these factors meant the price of local milk is much higher than elsewhere.
The Guernsey Dairy has been on its current site since 1951, and was last refurbished more than 30 years ago. Mr Cowley said farmers work very closely with the Dairy. The GFA also has a representative on the Dairy Management Board, which oversees its operation. He said the two are inextricably linked.
"If we don't have a working dairy, farmers would have to process their own milk, and there is just not the economies of scale. The alternative would quickly lead to the decline of the dairy industry, which would impact on biodiversity, the countryside, and the island's rural character. That is why it is important that we protect the industry."