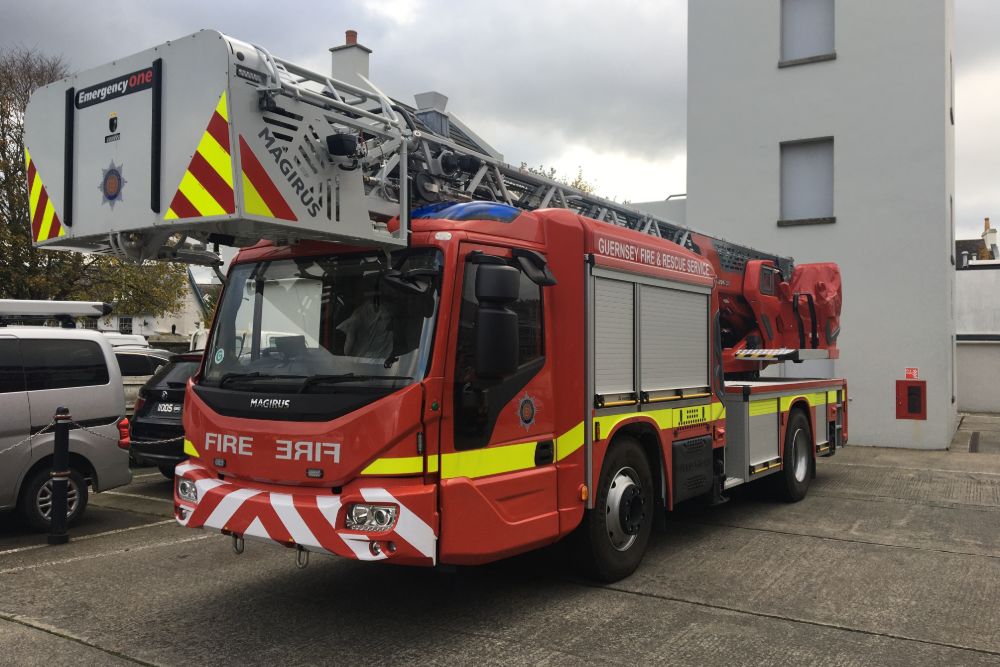 The new addition will bring the Fire Service into the 21st Century.
A bespoke fire engine is fitted with the latest fire-fighting technology.
The previous turntable ladder was more than two decades old, having served five years beyond its expected lifespan, but was becoming increasingly prone to mechanical issues.
The previous turntable ladder's computer systems had become increasingly likely to fail and more difficult to repair so a decision was taken to replace the vehicle before a significant failure occurred – leaving the island without this capability for a prolonged period.
Following a competitive tender process, Emergency One (UK) Ltd. were awarded the contract and have delivered the specialist fire vehicle ahead of schedule and under its £700,000 approved budget.
Because of the larger number of buildings above three-storeys, it's expected the fire vehicle will mostly be used in St Peter Port. It also allows the capability of a "foam attack" on the fuel facilities near St Sampson's Harbour and the power station.
Chief Fire Officer Jon Le Page says: "We have had a turntable ladder in the fleet for 40 years, and with more high rise and large buildings in Guernsey than ever before, there has never been a greater need for us to have one. We will shortly begin a four-month training programme to ensure sufficient GFRS personnel are trained in operating it. Full operational capacity is expected to be achieved in early 2020".
Aside from fire-fighting, it can be used as a high-level lighting platform, as the cage has spotlights, an emergency gangway for vessels on fire in the harbour, an emergency crane with a maximum lifting capacity of two tonnes and be deployed in wind speeds up to gale force seven – enabling safer access during stormy weather at chimney fires. It can also assist the Cliff Rescue Team.
"Although a GFRS vehicle, the turntable ladder is used to assist all three emergency services – previously having been used with the police to assist in searches and St John Ambulance to help remove workers from rooftop accidents on building sites," Chief Le Page added.
Like its predecessor, this new ladder is capable of reaching a maximum height of 32 metres above ground level. However, this updated ladder has the added capability of being able to reach down over an elevated obstruction, thanks to the addition of an articulated 'knuckle' type of pivot on the highest section of the ladder.