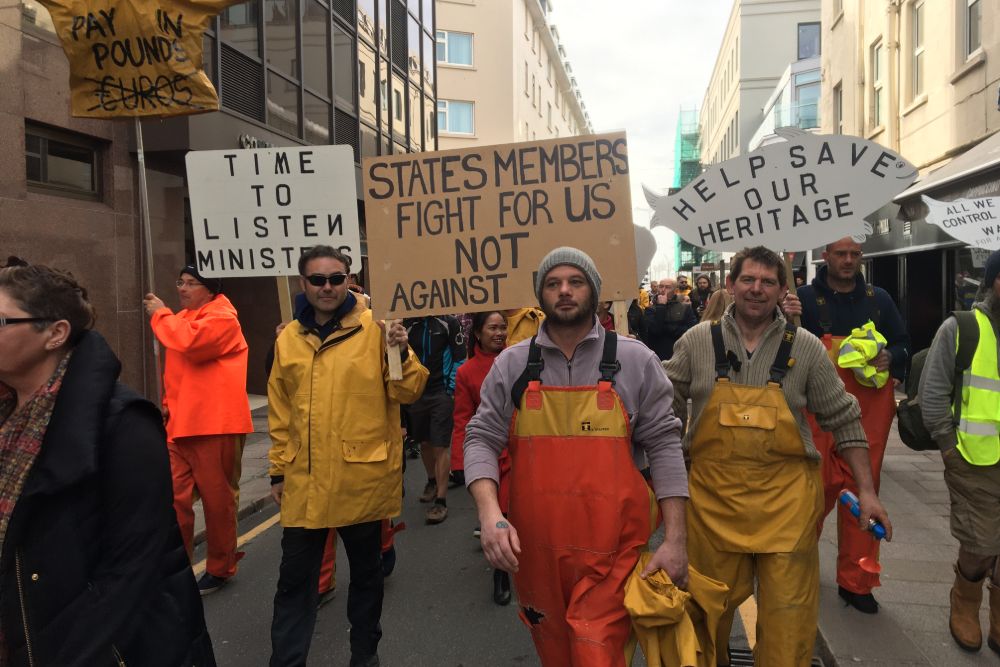 Local fishermen have marched through St Helier, calling for Jersey to take back control of its waters.
The Jersey Fishermen's Association says it is concerned that the number of French vessels using local waters will spike because of Brexit, leading to local industry being 'destroyed'.
The Granville Bay treaty shared between Jersey and France gives Jersey 135 permits compared fo France's 420.
Only 67 are currently used by French vessels, but the JFA thinks the remaining 353 will be taken up after Brexit, which they say Jersey is powerless to stop.
Fishermen argue that its work to create sustainable fish stocks will suffer and lead to local industry, recreational fishing and the marine environment being destroyed.
"The quotas are unfair and we want to get back control of our waters for Jersey fishermen so our Jersey fishing industry can prosper."
"It's been a tough few years with really bad weather, really bad catches and I think that anything we can do to help the young guys and anyone who's having minimal impact on the fishing, we need to help them and that's not we're doing."
"All the sustainable things we've put into place, unfortunately with the amount of permits that could be used by the French, the measures that we've got at the moment just wouldn't work and it would be a collapse, we'd just be going backwards. We'd like to see permit numbers come down or Jersey to permit their own waters. Jersey rules for Jersey permits."
The Association says it has no intention to stop or remove French vessels currently using its waters, but its concern is that displaced boats will take up the available permits.
Fishermen and their supporters marched from the Steam Clock and staged a protest outside the States Chamber in the Royal Square.
Jersey Fishermen Association President Don Thompson spoke in front of the vociferous crowds, asking the government to recognise and commit to 'swift and decisive' action regarding the Granville Bay treaty.
Environment Minister Deputy John Young then took the megaphone to address the crowds. He vowed to make a 'political intervention' in Paris to create an agreement where long-standing rights are respected but one that excludes larger number of French boats. He also announced that he would try and make sure the licensing is controlled by Jersey.
Guernsey's government recently started issuing authorisations to allow French vessels to continue fishing in Guernsey waters on an interim basis through 2020.