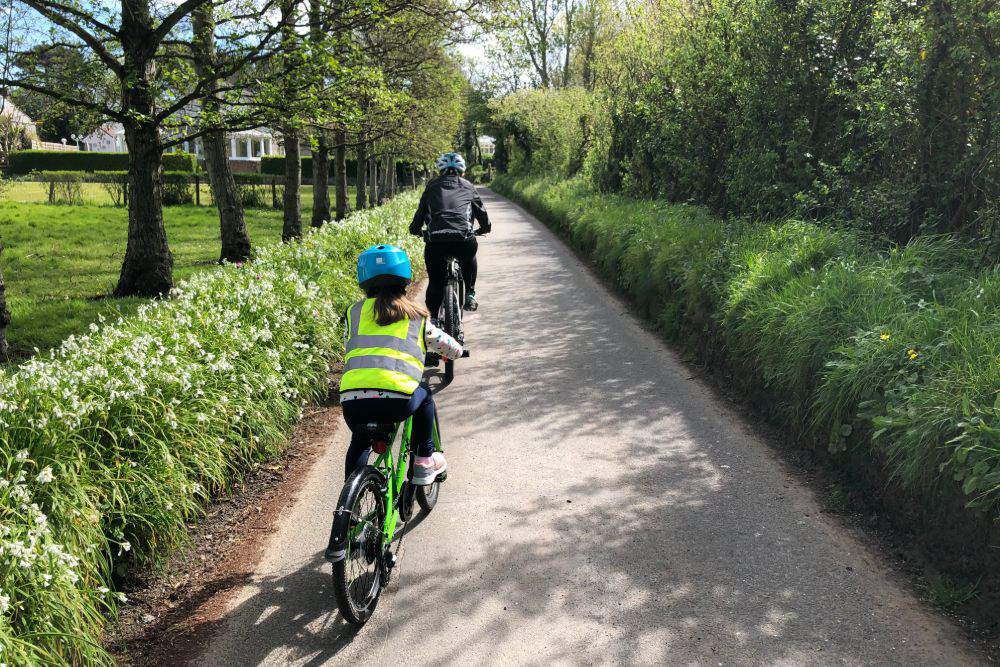 "Make the most of the quieter roads" is the message from Guernsey's Health Improvement Commission.
Families are being encouraged to take to two wheels while the island's roads are quieter than normal while lockdown restrictions remain in place.
Schools and most businesses are still closed, meaning there are few commuters and much less traffic than usual.
The Health Improvement Commission thinks we should use this time to get on our bikes and explore some of Guernsey.
In particular, it thinks it is a good time for children who have done their Bikeability training to put their new skills to the test.
For the last four years, more than 1,000 local Year 5 and 6 students have completed the course, which teaches them key cycling skills and how to stay safe on the roads.
Commission member Alex Costen says you might even find a part of the island you haven't been before.
"I've recently discovered a really good leaflet about some of Guernsey's Ruettes Tranquilles. I've lived here my whole life, but there's still little lanes and areas; bits of Guernsey that I haven't discovered yet. So, I think we are really lucky and there's some really lovely bits of the island to go and explore."
"You've got to concentrate when you're on the roads, and listen and be aware of your surroundings. So, I think it's an opportunity to teach those skills, and to appreciate being outside and how it makes you feel.
"Hopefully, you've been for a nice bike ride as a child, you might come back and be ready for your maths lesson because you've had that bit of fresh air. So, It's good for physical and mental health too."
Bikeability instructor David Harry syas cycling is a perfect way to spend part of your four hours of daily permitted exercise.
"Now is a great opportunity for those children who have recently finished the second part of Bikeability, to practice some of the key road skills they have already learnt, so they can enjoy cycling with friends and family and even start to incorporate it as a regular means of travelling to school.
"And for any children under the age of 12, Guernsey Bikeability will be able to send a Bikeability Achievement Certificate if they tag the Health Improvement Commission in any photos or videos using #GetOutThere."
He says, before heading out, it's important to check the ABC's of your cycles.
AIR checking that the tyres are correctly inflated so that there is little or no give when the tyres are squeezed.
BRAKES should be checked to make sure that they work and will stop the cycle when they are applied.
CHAIN and transmission should be looked at to make sure that they are not rusty. If there is any sign of rust then applying a spray lubricant should free things up.