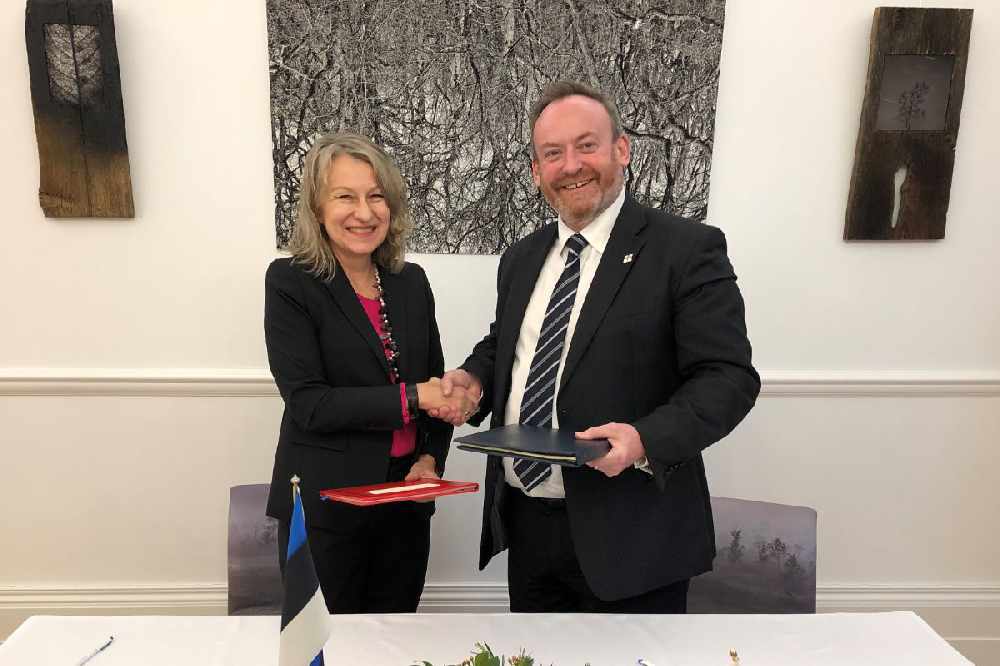 Tiina Intelmann, the Ambassador of Estonia to the UK and Deputy Lyndon Trott
Important tax agreement signed with Baltic republic
A DTA is an agreement between two governments which sets out the rights to tax certain income. It attempts to ensure that an individual or company does not get taxed twice on the same income by the two governments in question.
This is the fifth comprehensive DTA to have been concluded with an EU Member State, including the UK.
The agreement is based, broadly, on the OECD Model Tax Convention, which Guernsey has generally followed in its negotiations with other jurisdictions in recent years. To date, Guernsey has signed 14 comprehensive DTAs and 12 partial DTAs with other jurisdictions.
The new DTA between Estonia and Guernsey also permits the exchange of information between the two governments. The DTA
will enter into force once internal procedures have been completed in both Guernsey and Estonia.
Deputy Lyndon Trott, Vice President of the Policy & Resources Committee, signed the DTA on 18 November alongside Her Excellency Tiina Intelmann, the Ambassador of Estonia to the UK, at the Estonian Embassy in London.
Deputy Trott says: "I was pleased to sign this agreement at the Estonian Embassy in London, which will support business and individuals operating in both Guernsey and Estonia and ensure that they understand the way that they will be taxed by each government. The signing of this agreement also highlights once again the island's commitment to meeting international tax standards including the most recent BEPS standards, set by the OECD.
"Since 2009 Guernsey has had entrustment to directly negotiate and conclude DTAs, as well as Tax Information Exchange Agreements, with other jurisdictions, and the successful conclusion of this agreement demonstrates the
continued development of Guernsey's international identity and commitment to global standards."