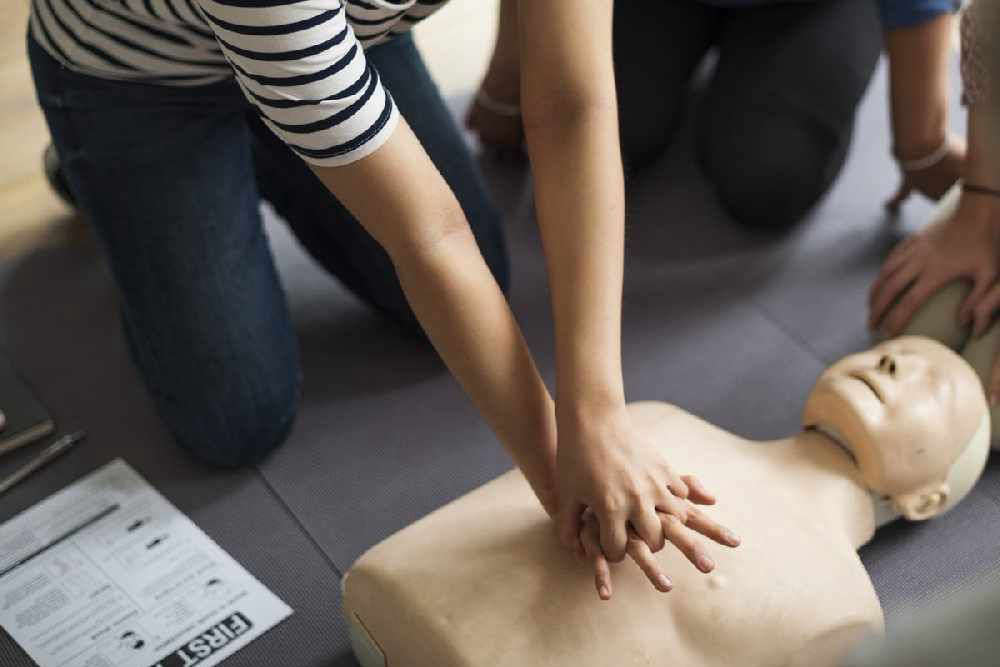 A Guernsey footballer is encouraging islanders to learn CPR as 'Restart A Heart Week' gets underway.
Guernsey FC has been receiving CPR training from St John first-aiders following Danish player Christian Erikson's cardiac arrest during a Euro 2020 match.
Ross Allen from the club says you could save someone's life.
"CPR is something everyone should know. No-one wants to find themselves in that situation, but knowing what to do in an emergency can be life-saving.
"I would encourage everyone to learn how to recognise when someone is having a cardiac arrest and have the confidence to do chest compressions, which is why I think Restart A Heart week is such a good idea."
Islanders are being encouraged to attend a series of community training sessions, organised by the Cardiac Action Group.
They're taking place across the island this week.
Monday 11 October Rovers Football Club - 5:00pm to 6:30pm, 7:00pm to 8:30pm
Tuesday 12 October Sylvans Sports Club - PM
Wednesday 13 October Le Friquet Garden Centre - 9:30am to 11:00am, 11:30am to 1:00pm, 2:00pm to 3:30pm
Wednesday 13 October Memorial Ground Ladies Football - PM
Thursday 14 October Northerners Football - PM
Friday 15 October Styx Community Centre - 12:30pm to 2:00pm, 2:30pm to 4:00pm, 4:30pm to 6:00pm, 7:00pm to 8:30pm
Saturday 16 October Town Church Square - 11:00am to 3:00pm (No booking required)
GFC Director Nic Legg says they are prepared for any medical emergencies.
"The club was extremely grateful to Heather at St John Training Services for running the CPR and AED demonstration this year. We are fortunate to have a defibrillator on at Footes Lane, our home ground.
This was Guernsey's first public access defibrillator, unveiled by former Bolton Wanderers midfielder Fabrice Muamba back in 2013 after his own on-pitch collapse the previous year. We also have a portable defibrillator for away games.
This training is an important extension of our preparedness. We all saw the importance of a fast response in this kind of situation, and if the worse did happen during a match, the players are the closest, so it's great to feel they will know what to do in an emergency."