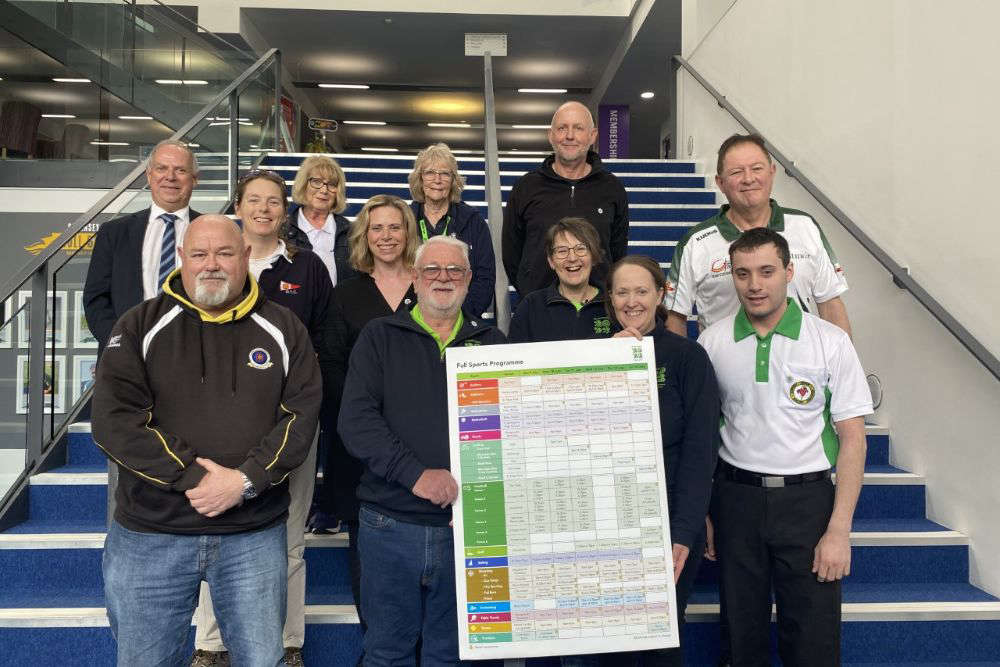 Guernsey Island Games 2023 organisers and sports coordinators
More than 2,000 athletes will compete in 205 events across 14 sports at 25 separate venues.
Island Games organisers have unveiled the full schedule of events that will take place in Guernsey from Sunday 9 July until Friday 14 July, 2023.
The opening ceremony takes place along the St Peter Port seafront on Saturday 8 July.
Brian Allen, the chairman of the Guernsey Island Games Association, says he's looking forward to seeing the whole island join in:
"It will be a celebration of beating the pandemic and meeting up with like-minded friends and athletes from 24 islands."
The competition begins on Sunday 9 July along the west coast with the triathlon, and the chance for athletes to compete for some of the 522 gold, 522 and 584 bronze medals to be won.
Amanda Hibbs is in charge of communications for the Games and says most of Guernsey's sporting venues will be used:
The archery is at Port Soif, athletics at Footes Lane, we're gonna be using Beau Sejour. We've got quite a few sports at the Hougue du Pommier. We've got table tennis there, the indoor bowls and some shooting as well.Then we've got the football pitches, the swimming, really there's going to be something going on everywhere around the island."
Swimming will take place at Beau Sejour from Monday 10 July and it's the sport with the greatest number of events.
There are 53 separate football matches covering the men's and women's games.
Amanda Hibbs says athletes and team support staff will swell Guernsey's population considerably:
"We're expecting up to 3000 people to come to Guernsey to actually participate within the Games. There'll be around 2200 athletes and we're really looking forward to welcoming all of those people from all of the islands to compete in 14 sports during the week."
The final day of action, on 14 July, has been nicknamed 'Fantastic Friday' and medals will be decided in ten separate sports. The St Peter Port seafront will host a cycling criterium race, the triathlon relay and the half marathon.
Amanda Hibbs says the organisers are hoping spectators will turn out in force:
"We really want the locals to get behind as many of the local athletes as they can. The Guernsey athletes have said to us how much they're looking forward to competing in front of a Guernsey crowd and seeing the Guernsey flag waving and hearing the cheers."
The closing ceremony on Saturday 15 July is at Footes Lane.