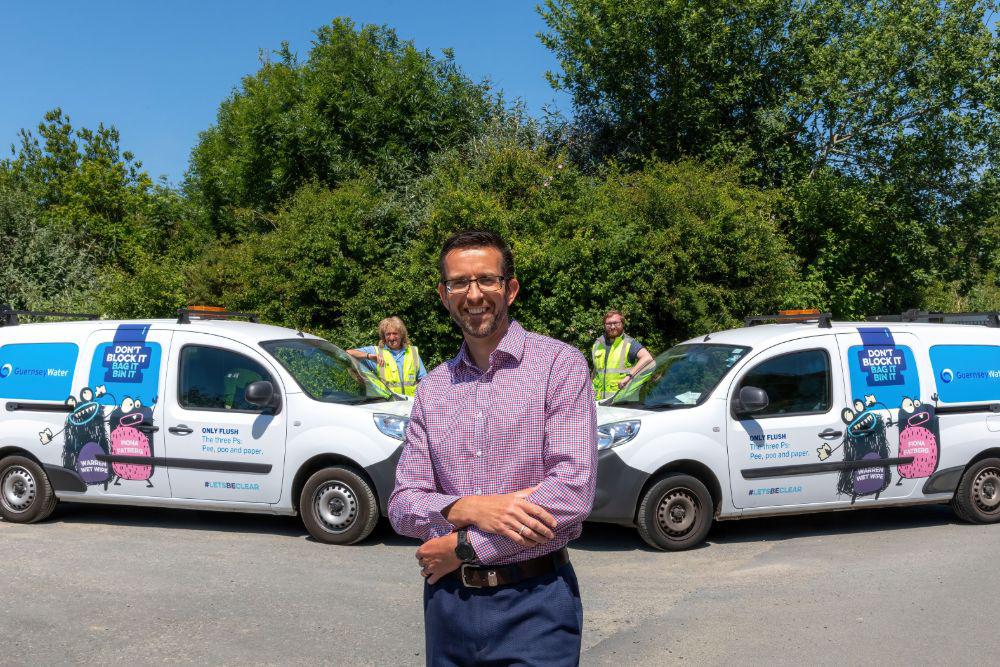 Pictured above is Guernsey Water general manager Steve Langlois at the launch of the 'Let's Be Clear' campaign
We're being urged not to flush wet wipes down the loo or dispose of cooking oils and grease down the sink.
Guernsey Water has launched a new campaign that shows the problems caused by a build up of wipes, oils and grease create in the waste water network.
The company deals with approximately 140 blockages a year at its pumping stations and proactively cleans over 35km of sewer annually to avoid pipe blockages.
Steve Langlois, Guernsey Water's general manager, says: 'Putting fat, oil and grease down your sink and flushing wet wipes down the toilet means they create build ups in the wastewater network which can increase the risk of flooding and associated pollution.
'As a case in point, we conducted a customer survey last month on Islanders' flushing habits.
One key statistic from the research indicated that 15% of customers are disposing waste cooking oil down their sinks monthly, with 11% admitting this takes place at least once each week.'
Entitled 'Let's be clear', the year-long campaign is aimed at Islanders, schools, care homes and hospitality sectors and a survey will benchmark attitudes and understanding around the issues.
Guernsey Water has developed characters based around wet wipes and 'fatbergs' and is working with States departments, hotel and hospitality groups and businesses to create awareness of the issues.
Mr Langlois added, 'The wastewater network includes the pipes and pumps which remove used water and sewage from all properties on the Island. This includes anything that goes down drains or in the toilet. By keeping drains clear we can ensure a better service for everyone on the Island, reducing the need for repair works, the risk of blockages and floods, and ultimately providing a more efficient service with fewer disruptions.' For more information, please visit water.gg, the Guernsey Water Facebook page, find Guernsey Water on Twitter @GuernseyWater or call 01481 239500.