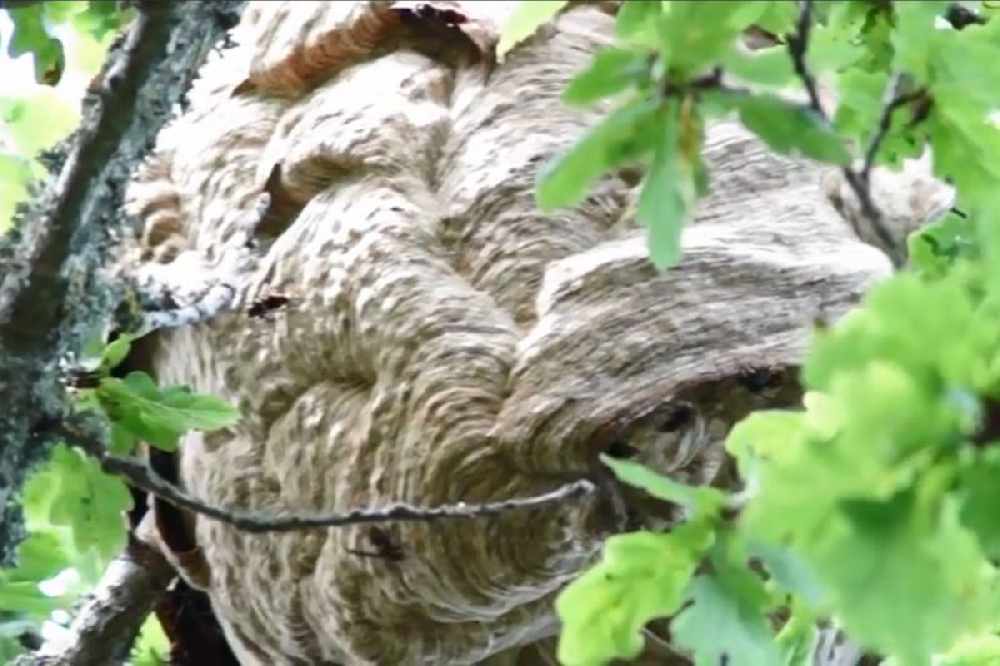 The nest of an Asian Hornet
We're being asked to contact the authorities if we spot Asian Hornets or their nests.
A project to stop the insects from breeding and destroying native species is now in its second year.
If it's successful 'Spring Queening will reduce the development of secondary nests during the year, restricting the growth of the hornet population in Guernsey.
The Asian Hornet Team have delivered a total of 270 specially baited traps, spaced approximately 500m apart, and covering the whole of Guernsey. The traps are being regularly checked by volunteers in an attempt to capture as many of these spring queens as possible.
It is not uncommon for hornets to be attracted into buildings during the early spring as this is the time that queens start looking for places to make their nests. At this time of year the public are reminded to check sheds and outbuildings for possible primary nests which are round, pale brown and range between the size of a golf ball and a grapefruit.
Francis Russell, Project Coordinator (Asian Hornet Strategy), said: 'We are pleased that public continue to support us in our work and remain aware of the real possibility that Asian hornets could become established on Guernsey. We cannot emphasise enough the important role played by members of the public in reporting potential Asian hornet sightings or looking out for small nests made by the queens at this time of year.
'Our aim is to ensure that we can keep the populations of Asian hornets as low as possible, to protect public health and the Island's biodiversity. It is only a matter of time before we pick up more hornets in our special traps that are kindly being monitored every day by our band of volunteers directly involved with the Spring Queening project.'
Please report any sightings to the Asian Hornet Team asianhornet@gov.gg with a location and a photo if possible.
The team's usual contact phone number at Raymond Falla House is not currently in use due to lockdown measures so please call 07839 197082. It may take a little longer than usual but all reported sightings will be responded to as a matter of importance.