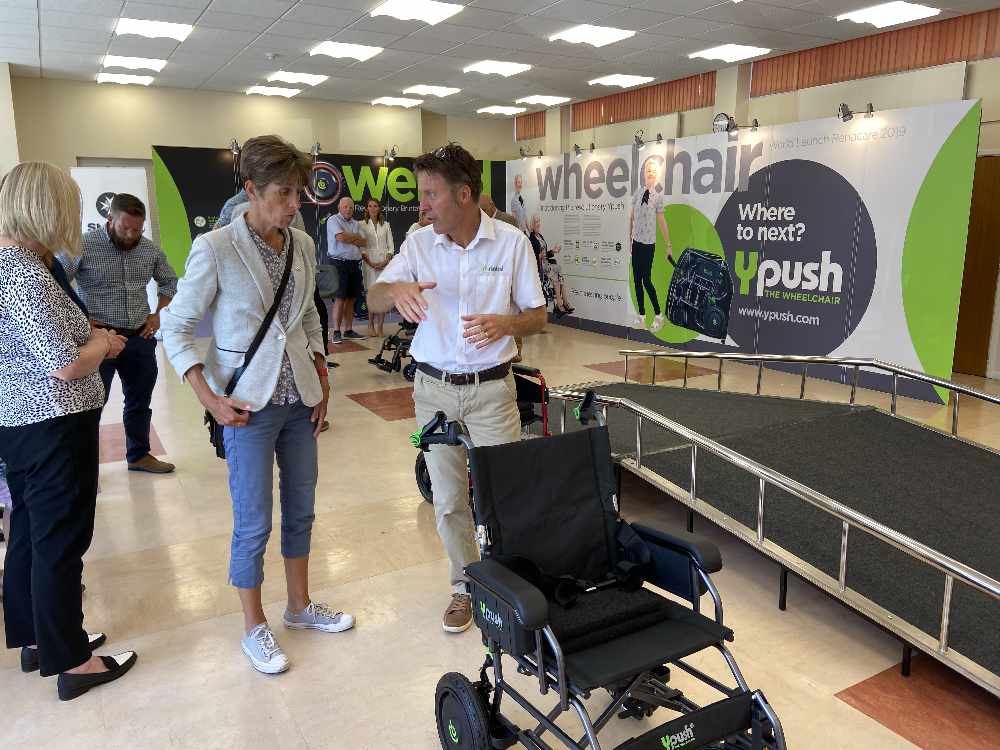 Health and Social Care Committee President Deputy Heidi Soulsby with inventor of the Ypush Brian Harrison
A Guernsey inventor has created a wheelchair that has the potential to positively improve life for users and their carers.
Brian Harrison is the brains behind the Ypush, a lightweight wheelchair that makes navigating hills and awkward terrain much more easy than in a traditional wheelchair.
It was launched yesterday at St John's headquarters in Guernsey, giving people the first opportunity to see the device for themselves. It has already attracted a lot of interest, including Health and Social Care Committee President Deputy Heidi Soulsby, who attended the launch.
Mr Harrison says it's unlike any other wheelchair that's currently available.
"Generally with a wheelchair someone has to push it and with this one you don't have to push. It's self-powered. It helps you go up hills and it helps people get out and about," he said.
A woman who has road-tested the Ypush says it's changed her life for the better.
Sue Mollett has been using a pre-production model for the last nine months.
She says previously she didn't like to ask her husband Tony to take her to town because it was too difficult in a traditional, cumbersome wheelchair.
"It's given us our life back because I used to often say I don't want to go anywhere. I would just be left alone and my husband would go out. Now I can join in everything again that we used to do together so it's really nice," she said.
People will be able to arrange a Ypush test locally through St John Ambulance.
Jac Llewellyn-Jones, relationship manager at St John, says she's amazed no-one has thought of creating a lightweight carer-controlled wheelchair before.
"We are living longer, we have elderly parents or elderly partners who we might need to move around. If you try it in a normal wheelchair it's nigh-on impossible in Guernsey because we are up and down hills and cobbles and beaches and all those things. Now, this product makes all those things accessible which previously haven't been. I think it's absolutely brilliant and it looks nice."