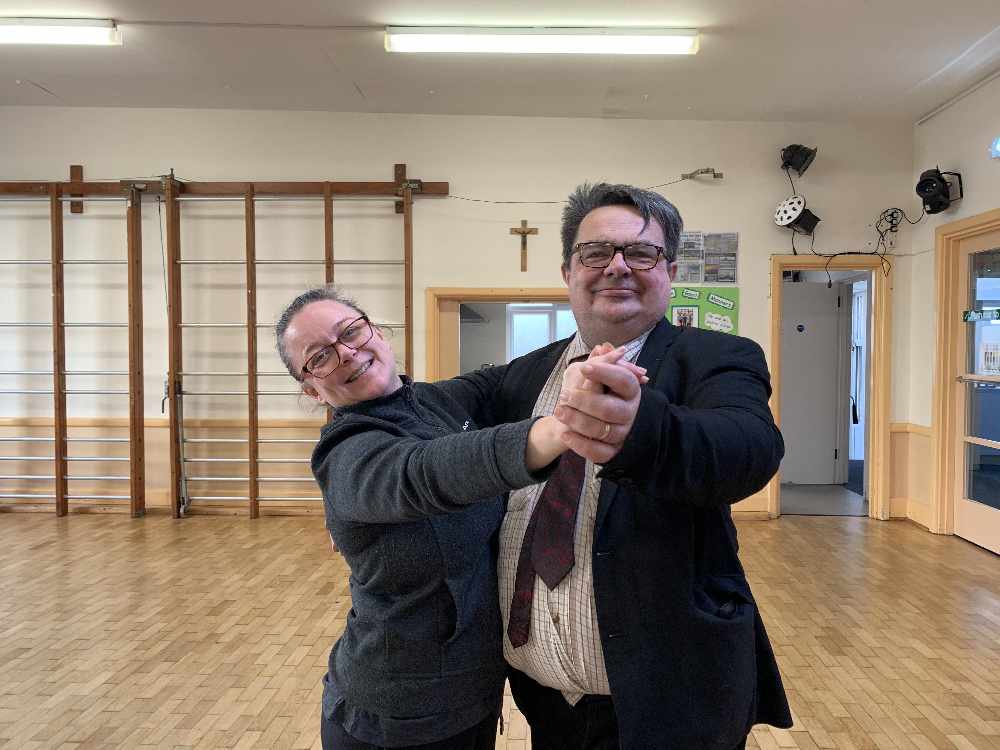 Charlotte Trigwell practising with Deputy John Gollop for the 2020 Dancefloor Challenge
Deputy John Gollop's hoping the public will get behind him when he takes part in this year's Dancefloor Challenge.
He's been getting to grips with the foxtrot and the lindyhop as he and partner Charlotte Trigwell prepare for the event, which takes place over the weekend of 24th and 25th April.
The pair are looking to find corporate sponsorship and are also hoping that members of the public will come along and help them raise funds for local charities Choices and the Guernsey Branch of the Royal British Legion.
'I have thousands of acquaintances, but it's a challenge and I know the money raised predominantly goes to help local charities,' he said.
Deputy Gollop says he's finding learning to dance very challenging, but he's giving it his all.
'I find it hard to remember the moves and just when I think I've reached the end of the challenge, with the foxtrot and the harder jive, a whole new set of dances are put to me, from the rhumba to the lindyhop to the quickstep and all that.'
Charlotte says she's very proud of her dance partner.
'The biggest thing for me is taking somebody who either hasn't had the inclination to dance before, or just doesn't know where to start and taking from that point where they walk into the room where they are shell shocked to the point with which they've got so much confidence in them that I can get them out there on that Saturday night gala performance with the tables of sponsors there and the crowd shouting for them, and they get to the point and say "oh, is that the end of the journey?"'
If you want to show your support, you can get in touch with Charlotte on Facebook, search for Charlotte Trigwell, or email ctrigwell.creativememories@gmail.com