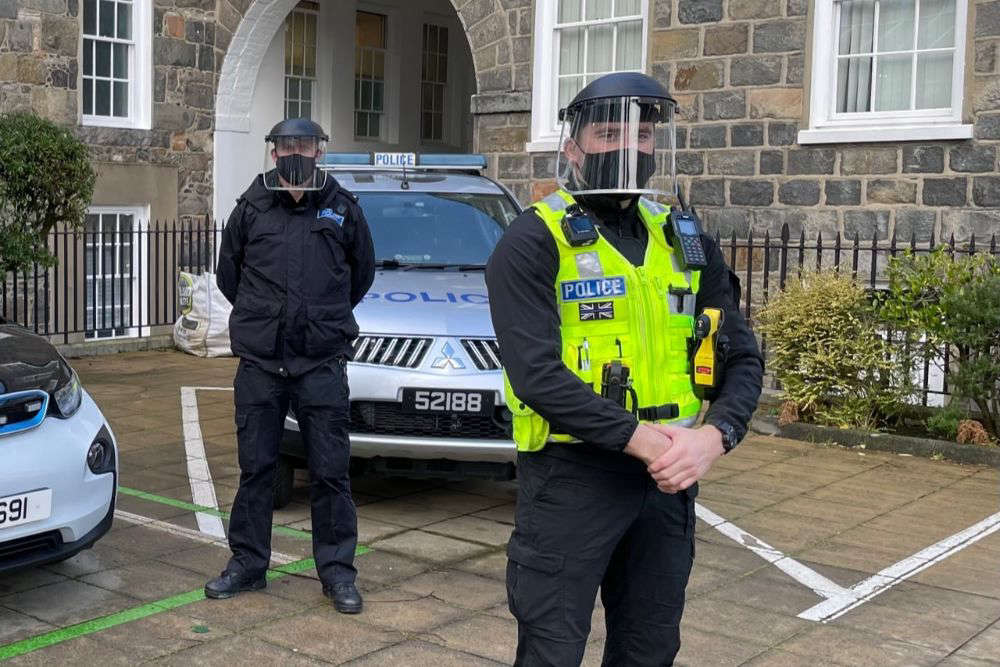 Credit: Bailiwick Law Enforcement
Officers wearing masks will once again become a familiar site in Guernsey as Bailiwick Law Enforcement are reimplementing a number of Non-Pharmaceutical Interventions.
All staff in Police Headquarters, at the White Rock and New Jetty offices, and at other locations will again be wearing face coverings, socially distancing and regularly hand sanitizing.
Bailiwick Law Enforcement has been looking at how it can live with Covid-19 going forwards.
Chief Officer Ruari Hardy has been telling Island FM that these changes are to protect Officers and the public.
"It's purely a preventative measure, the intention is to keep the workforce safe and to protect the workforce. The role of Law Enforcement often requires us to respond and deal with incidents with little warning and without the ability to understand fully the circumstances or position of individuals we're dealing with. So, it's just building in an extra safeguard.
"It's predominantly for close-contact and indoor work; we're going to keep it under constant review. If we're not in open spaces - fresh air - they're just methods we're using to ensure that the workforce is kept as safe as possible, and by doing that ensuring that we can continue to run the vital services that our community need."
With the increase in the number of travellers and possible breach investigations, the Chief Officer wants the organisation to be as resilient as possible.
"If an Officer did test positive, we would be subject to the same 'Track and Trace' that Public Health would use, and where previously we have had those kind of situations, it has lead to a number of staff having to be unavailable for work. The process we're adopting is trying to put some Non-Pharmaceutical Interventions into place to protect the workforce and ensure that we can continue to deliver the public service."
Mr Hardy hastened to add that Law Enforcement is not aware of any information that is not publicly known.
The Chief Officer explained that the measures wouldn't impact on their day-to-day operations.
"Our Officers deal with situations and different situations all the time. If there was a specific situation where, for example, there was a communication issue, or someone need to lip-read, of course we would do dynamic risk assessments and Officers would respond and adapt accordingly towards the individual needs of our community."