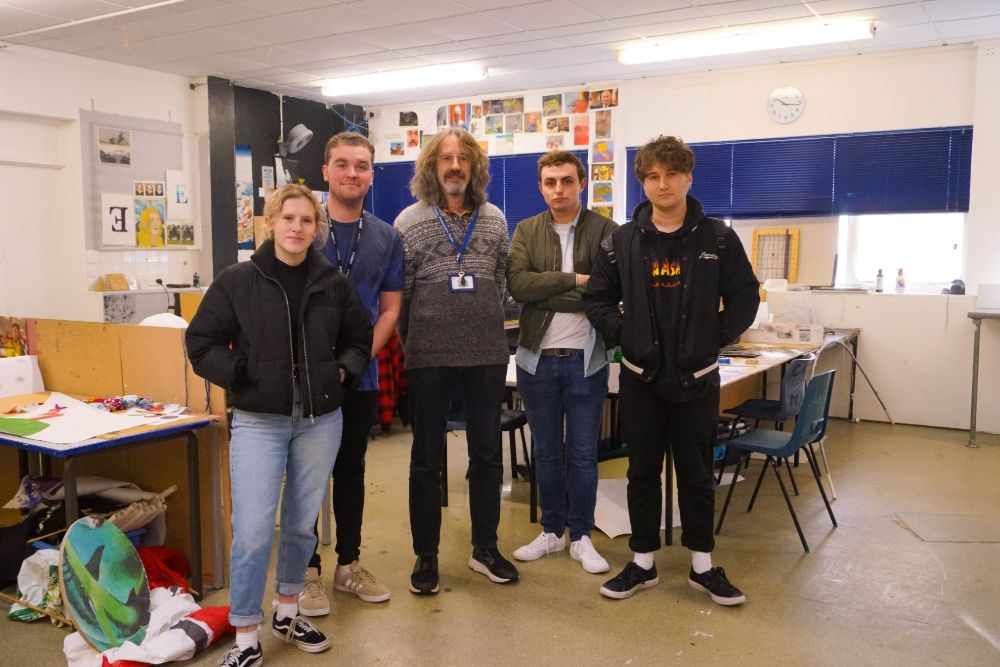 Pictured: Sidney La Gallais, Brandon Carberry, Mark Cook, Jack Saunders and Demid Winterflood.
A statue is being made to mark the 75th Liberation Day.
A life-size sculpture is being created for the 75th anniversary Liberation Day next year.
Details about the piece are limited as it is being kept secret until a big unveiling which will be held on Liberation Day in May next year.
The work is being made by local artist and College Lecturer, Mark Cook. He has previously created other art pieces for the island such as the donkey and foal in market square, as well as recently making the 'Man on the Bench' statue, which was a project for the Guernsey Arts Commission.
Mark says: "The theme of the piece is past, present and future, and it will incorporate elements which will talk about the period and time, though it is also a celebration of now.
"The deadline is challenging as we normally have more time with big projects. But this has been a wonderful initiative and it has reconnected me to the stuff I have always done and and it's great to get hands-on again with a sculpture."
For this initiative Mark has been joined by fellow artist and lecturer Charlie Towers, as well as some of the College of Further Educations students, who are all studying the Creative and Digital Arts course. They helped take some sneak peak images of the piece, which they are able to use as part of their coursework.
As this project is secret and a lot of the details are as yet undisclosed, Mark and the students were unable to tell us much, however we know it will be made using chavant. This is wax-based and is very similar to clay, but does not dry in the same way. As it has to be cast, it will be sent to the UK to be made in bronze which will be durable and lasting.
The final colour for the piece will be similar to the donkey in market square.