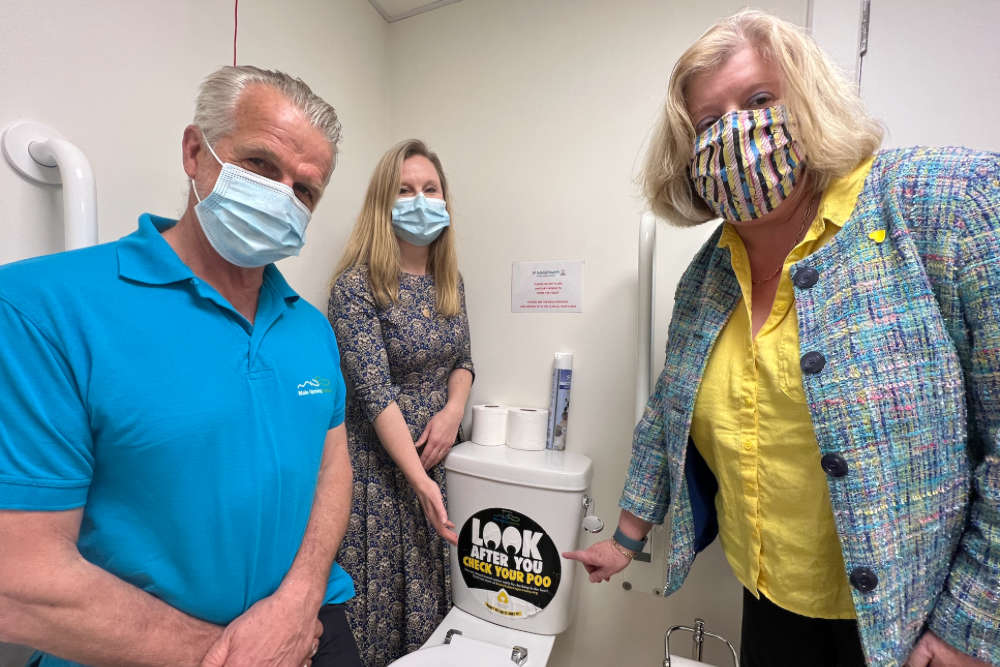 Chris Walker, MUG; Dr Rachel Heath, Island Health and Bowel Cancer Guernsey Director; Sara Gould, Bowel Cancer Guernsey
Bowel Cancer Guernsey and Male Uprising Guernsey are encouraging us to look for any potential signs of the disease.
Stickers are being put in toilets across Guernsey with the message 'Look after you, check your poo'.
The campaign is urging islanders to check the bowl when they go to the toilet.
Bowel Cancer Guernsey Treasurer Sara Gould is confident the campaign will make people more aware of the early signs.
"We are so pleased with the new stickers. Raising awareness of the signs and symptoms of bowel cancer is a vital part of our work and we're confident that this catchy new design will encourage islanders to look after their health and get checked out by their doctor if anything seems wrong.
"From restaurants to offices, we're encouraging all businesses to help us spread this important message by displaying the stickers in their own facilities. There's never been a better time to do so than Bowel Cancer Awareness Month."
April marks Bowel Cancer Awareness Month and the charity is now inviting local businesses to introduce the stickers into their workplace.
To commemorate the start of the month, today (1 April) the Bowel Cancer Guernsey team have been handing out fibre-packed breakfast goodie bags.
Chris Walker from MUG explains that anyone can be affected by the disease.
"It's great to join forces with Bowel Cancer Guernsey once again to promote the importance of looking after your health. Bowel cancer is a disease that can affect the young and old alike and it doesn't discriminate between men and women.
"The new sticker campaign is a novel way of getting this important message across that we all need to look after ourselves."