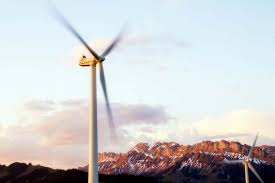 Guernsey Energy, which is part of the Island's Energy Group (IEG) of companies and includes Guernsey Gas, Jersey Gas and Manx Gas, has announced plans to establish a new fuel-agnostic firm.
The firm will provide independent energy advice and services to assist islanders in finding an environmentally-friendly and economic solution to their individual energy needs.
Managing Director, Ian Plenderleith, says the energy market has changed massively over the last few decades and is ever continuing to do so.
'When I was younger you moved into a property, whatever services you had connected to your house from the grid with other services you used'.
Alluding to the new technologies entering the marketplace, Isna suggested the IEG must integrate and understand them to remain a high-quality provider.
The new company, its hoped, would provide greater scope for those who wish to generate their own energy too.
'It's very exciting times now within the energy market… you can now generate energy within your own property'.
'We will offer a full range of smart energy solutions. For example, domestic and commercial solar'.
Mr Plenderleith told Island FM he hopes the changes will, ultimately, offer greater customer choice.