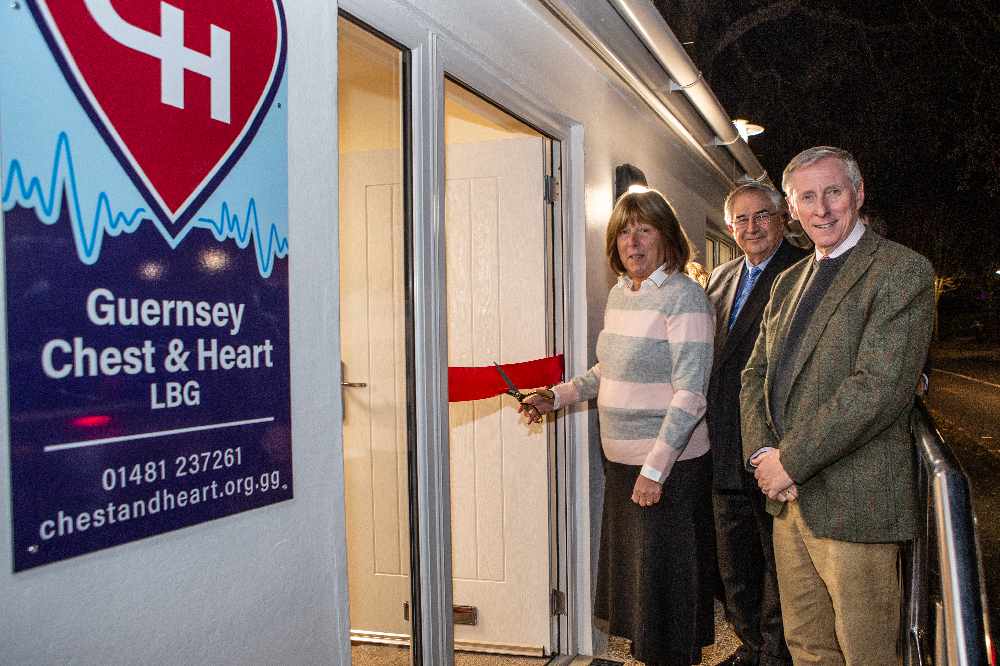 Lt-Governor and Lady Corder with Chest and Heart chairman Dr Stephen Brennand Roper
Medical centre at the Oberlands has a radical overhaul
The medical centre has been re-vamped thanks to the concerted efforts of a group of volunteers, principally the Norman Piette Task Force, which last week won the Corporate Social Responsibility Award at the annual Community Foundation Awards for their work.
His Excellency the Lt-Governor and Lady Corder officially opened the refurbished premises and were amazed at how the building in the grounds of the Princess Elizabeth Hospital has been transformed.
Unveiling a plaque at the entrance to the centre, Sir Ian said: "The Guernsey Chest and Heart centre is undoubtedly a key element of our preventative healthcare construct and, like so many islanders, Kathryn and I are big fans.
"We can all be thankful for its refurbishment, which enhances this very valuable service for future generations. I'm delighted to see the centre in such good shape."
This was the culmination of a year-long community project to revitalise the service, which has provided free health screening to islanders for the past 45 years.
It involved dozens of islanders giving their time and expertise, often pro bono or at cost. Among them were Pete Falla from architects PF+A Ltd, who drew up plans for the building to make it more accessible.
Mr Falla said: "This project is closely aligned with PF+A's culture to improve people's lives and we are proud to have been asked to help support this very important initiative. I will personally be making sure that I take advantage of the new facilities to help monitor my health."
Centre Manager Carolyn Oxburgh is delighted with the outcome. "Our premises were looking very tired and were no longer fit for purpose or what you would expect from a modern clinical service. The building is now much more thermally efficient, has disabled access and toilet facilities, new windows, new wiring and plumbing, and has a new IT system installed to ensure data compliance.
"The biggest difference is the addition of two new clinic rooms, enabling even more patients to take advantage of our screening services.
"This has been a momentous period of change for the Chest and Heart service and I am excited for our future. If we can help to save more people's lives in Guernsey, then it will all have been worth it and we can continue to play a vital part in the island's health provision."
The new-look centre will be open to the public for viewing on Saturday 23 November between 9am and midday.