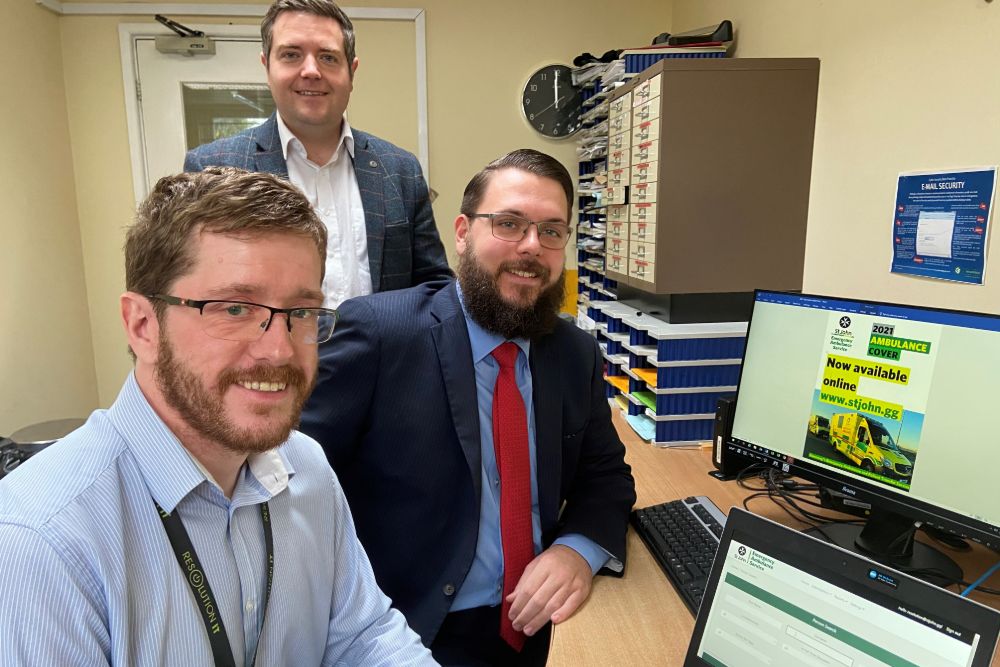 Dave Wratten, Stuart Brennen (standing) and Greg Falla check out how to use the new online St John Ambulance subscription service
Islanders will be able to pay their subscription to St John Ambulance without leaving the house thanks to its new online payment system.
St John says the new scheme is more efficient, however it will still be possible to pay using the paper form for islanders who don't have access to a computer.
Anyone who isn't a member of the 2021 subscription scheme and who doesn't have adequate health insurance will be charged on average £380 for an emergency ambulance.
Chief financial officer Stuart Brennan says: "It's back to that message about people finding it challenging or refusing to pay for whatever reason, to try and give them the easiest way possible to subscribe, to be as fair as possible to them.
To try and encourage people to take out a subscription because it is a very small cost in comparison to the standard ambulance charge-out rate if you don't subscribe."
Subscription for an adult is £36 per year and will cover unlimited emergency ambulance calls for 12 months, but a single ambulance journey if you do not subscribe will cost considerably more:
"If you do take out an ambulance it will be on average £380 with the potential for an additional £70 if you require paramedic treatment, so that is a substantial difference for just one ambulance journey alone."