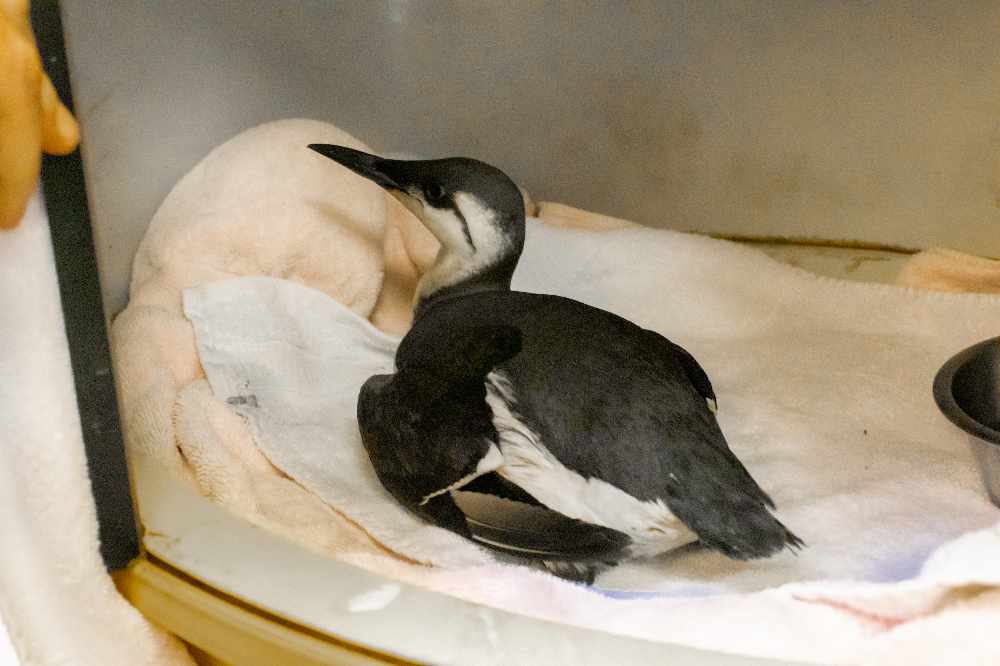 One of the oiled guillemots, which was rescued by the GSPCA
In the last few days the GSPCA has rescued three oiled bird from beaches around Guernsey. 
Three guillemots were found covered in oil and are now recovering in intensive care units at the GSPCA.
Each bird was found in a different area of the island. There's no obvious connection except for the fact they were all covered in oil, which means they became trapped on the beach.
Steve Byrne, Manager at the GSPCA says, "Sadly when we see severe stormy weather oil can be stirred up which is what we think has happened. With three oiled birds arrive in a matter of days it is highly likely there are others out there."
Mr Byrne went on to explain that oil can be fatal for birds because it coats their feathers, which are designed to provide superb waterproofing and insulation.
Birds that have oil in their feathers can try to clean them and end up with oil in their stomach, which then poisons them, causing a slow, painful death.
Beckie Bailey GSPCA Animal Care Assistant who is looking after the birds says, "Even a small amount of oil, no more than a penny-sized drop, can be deadly to birds. Understanding how oil affects birds can raise awareness of just how hazardous any oil spill or similar pollution can be."
The three birds have been named Gallileo who was from Ladies Bay on Friday, Guillbert came in Sunday from Le Picquerelle and Guilly was rescued from Petit Bot on Monday.
The GSPCA is currently raising funds for a new Wildlife Hospital as well as a new intensive care unit. TIf you see an oiled bird, call the emergency 24-hour helpline on 257261.