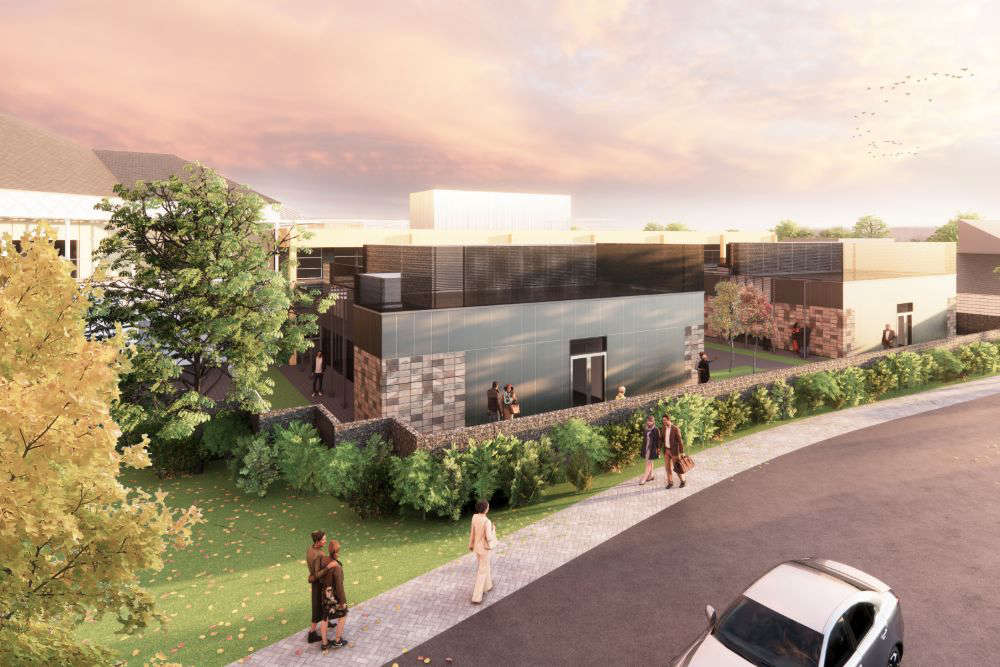 Architect's image of the new Critical Care Unit
The first phase of a multi-million programme of upgrades to Guernsey's Princess Elizabeth Hospital will begin this month following the appointment of a contractor.
Rihoy & Son has been chosen to begin work on Phase 1 of the modernisation project, expected to cost £32 million pounds.
Deputy Al Brouard, President of the Committee for Health and Social Care, says breaking ground at the PEH is a long-awaited and significant step:
"Rihoy & Son put in place a bid which fully reflects our requirements. Despite the scale of the programme we will be delivering, the HSC Committee very much views these works as business-as-usual activity to improve essential HSC infrastructure and deliver the facilities our community requires.
Our team have taken care to work with stakeholders, including our clinicians and those of our partners, to make sure we are putting in place the right facilities and only those essential to future-proof our healthcare system."
Phase 1 will increase the capacity of the Critical Care Unit from seven to 12 beds. A new 10-bed post-anethesia Recovery Unit will be added too. This work is scheduled to take two years.
"..There's quite a lot of work that needs to be going on around that including updating some of the facilities, oxygen and electricity supply etc . So we're really delighted to be putting spades in the ground this month."
Additional upgrades, including purpose-built maternity, paediatric and orthopaedic facilities and modifications to the Emergency Department are scheduled to be delivered in future phases.
"We've basically tried to keep the main campus around the hospital core fairly clear of anything except for medical use. After two years we will hopefully moving on to phase two, which is a much bigger phase and that will require quite a lot of work."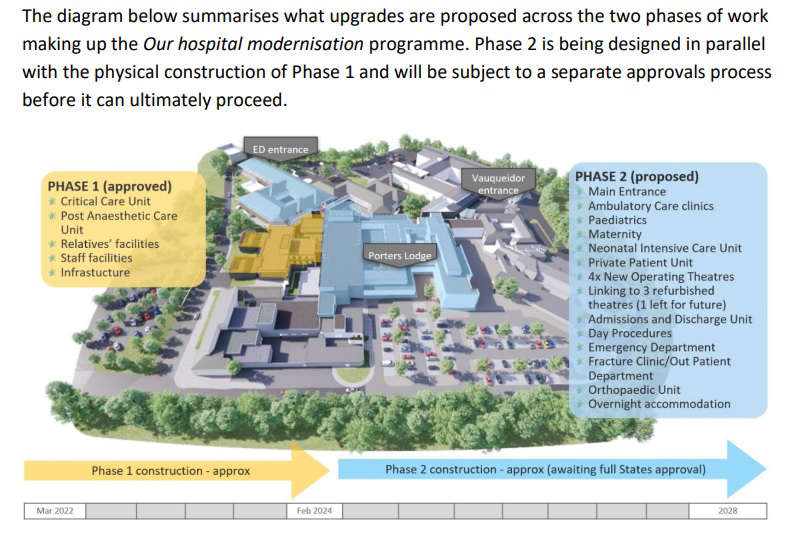 Image supplied by States of Guernsey
Deputy Brouard says that the Covid-19 pandemic has really underlined the importance of having a state-of-the-art, robust hospital:
"We have got a backlog of operations we need to get through, and increasing our bed capacity and the ability to get people through the hospital is one of those critical things we need to sort out in the next few years.
The hospital is fairly low level, so we do have the option of going slightly higher as well, but the campus is a fair size at the PEH so we are allowing for expansion in the future, and of course some buildings from the 1940s will reach the end of their life and may be demolished."