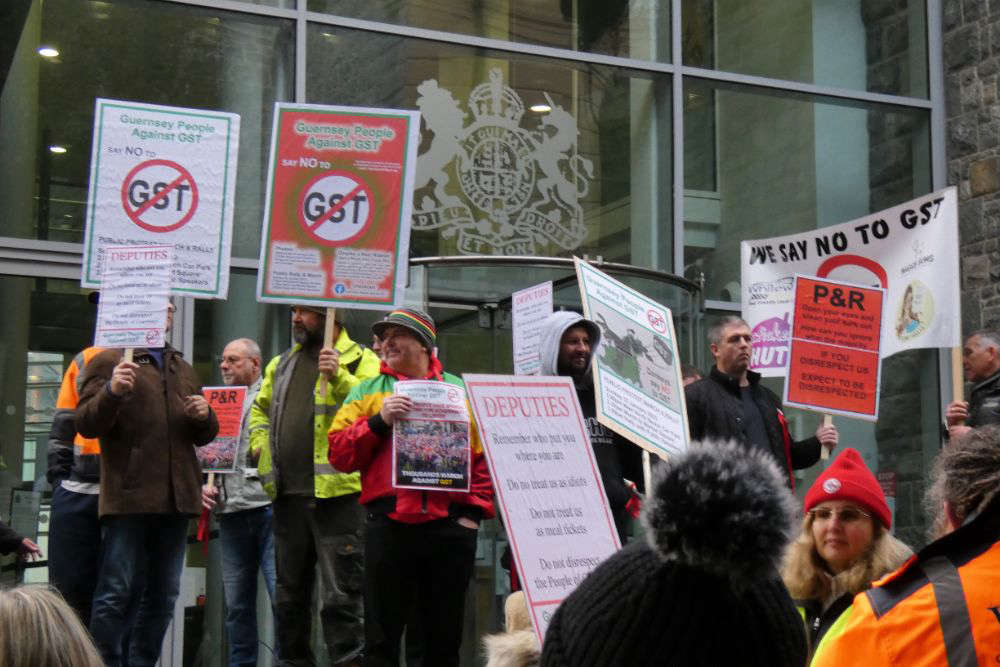 Protestors gathered outside the Royal Court ahead of the tax debate on GST, arguably the most important in Guernsey in decades.
Deputies have taken their places for a landmark States meeting.
This week they will debate whether to accept Policy and Resources' proposals for a 5% Goods and Services Tax, to help plug the looming deficit.
It's part of a package of tax and social security reforms put forward by P&R.
The bailiwick's politicians were met by strong messages from scores of people gathered on the steps of the Royal Court.
Opponents, including Deputy Heidi Soulsby and Deputy Charles Parkinson, have lodged their own tax reform plans.
One is branded 'A Fairer Alternative' and includes public sector savings, the other a territorial tax. Both argue companies can and should pay more.
If either of these are voted through, then P&R's political position may be untenable.
In an open letter, Deputy Peter Ferbrache says his committee, and Deputy Peter Roffey, enter the debate as underdogs.
"I prepare for this debate knowing the odds are against us. So we can't help but ask ourselves 'why are we doing it?' Why are we spending any remaining political capital we may have, walking past the angry shouts of protesters, only to take an unpopular policy to be butchered in the States Chamber? If we lose, (or in the unlikely event we win), we're incurring the wrath of many islanders, including in some cases friends and colleagues. Why on earth are we doing it?
"We're not desperate to sacrifice our political reputations for an unpopular new tax. We are however desperate to avoid a future where the government, which provides some of the most fundamental services that many of us couldn't do without, can no longer afford to fulfil its purpose. We're desperate not to leave the next generation with unsolvable financial problems, both on an individual level and as a community. We're desperate not to sleepwalk into a situation where our biggest sector and the thousands of jobs it creates is jumping ship to jurisdictions that are more politically and financially stable."
There are eight amendments in total, and the debate may continue into next week.
Deputy Carl Meerveld will attempt to get the discussion of GST delayed.
An estimated 4,000 people took part in Sunday's anti-GST rally.
The figures come from a footsteps counter on Market Street steps.
"These numbers prove that (Sunday's) rally was the largest protest march Guernsey has ever seen and emphasises the overwhelming objection of Guernsey people to the introduction of a Goods and Services Tax and I hope that my colleagues in the Assembly will head this and Say NO to GST."- Deputy Meerveld, member of the Say NO to GST campaign group.