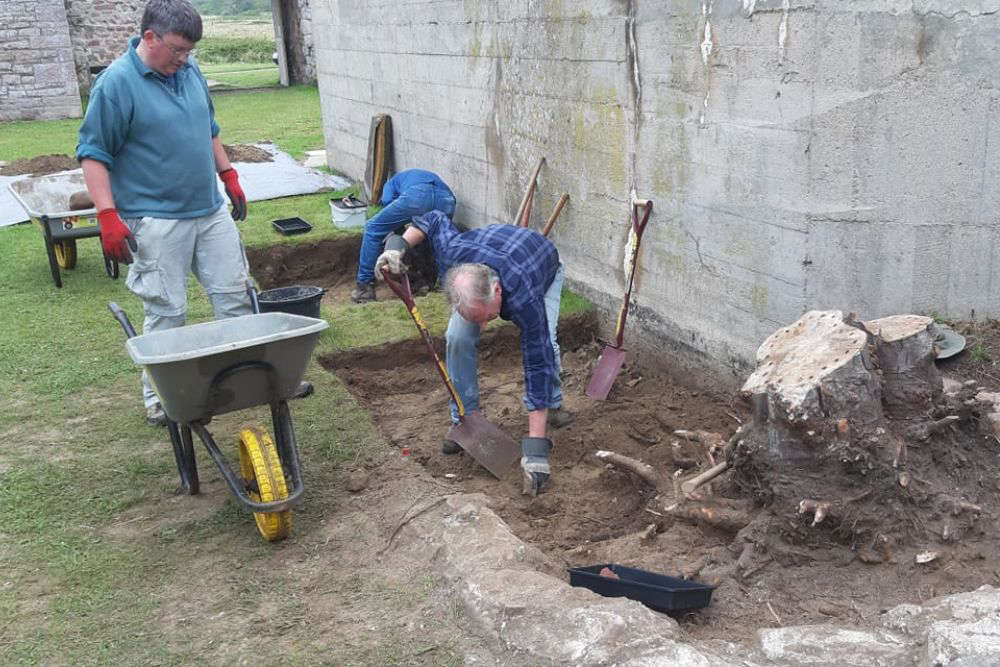 A German personnel shelter at the Nunnery. The WW2 cemetery is outside the gate, top left.
A Ground Penetrating Radar survey of parts of Longis Common in Alderney may uncover evidence of further slave worker graves on the site of the former World War II cemetery.
In late May and early June, an archaeological dig and ground radar survey of post Roman activity at the Nunnery and nearby Longis Common will take place, organised by the charity Dig Alderney.
Taking part are the States Archaeologist, Dr Phil de Jersey, and former head of Guernsey Museums, Dr Jason Monaghan.
The dig and ground radar survey will try to establish what happened when the Romans left the Nunnery and a nearby settlement on the Common.
But part of that area is the former World War II cemetery, where forced labourers who died during the Occupation were buried.
It's well known that they were poorly fed, housed in cramped camps and worked long days while building the hundreds of fortifications on Alderney, as part of Hitler's Atlantic Wall.
An investigation carried out by a British Army Intelligence officer immediately after the war revealed that as many as 330 died. But it was difficult to be absolutely sure because of the accuracy of the German records and witness statements. Unlike the other Channel Islands, Alderney's entire civilian population left for England or Guernsey in June 1940. This meant that the German occupying forces had the place almost to themselves, with no witnesses aside from a very few locals who looked after the farm.
Recent research by Dr Caroline Sturdy Colls, a professor in Conflict Archaeology and Genocide Investigation from Staffordshire University, points to a far greater number of forced labourer deaths, possibly double the official number.
Dr Phil de Jersey says this is why they're keen to survey the area:
"This is one of the key debates, as to whether everything was removed in the early 1960s or whether there's actually more there. So hopefully we might be able to provide some evidence one way or the other."
A Ground Penetrating Radar survey may show if other bodies lie within the boundary of the old cemetery or outside its perimeter. Nothing is really visible of the site now, it's part of the Common.
Dr Phil de Jersey says whatever the radar shows up, they won't be excavating on the site of the cemetery:
"We don't want to touch it, even if there's something fantastic and Iron Age underneath it, we'd consider that out of bounds. But when we've got the GPR equipment there, it is a good opportunity to survey that area to see what it shows up."
GPR works by sending electromagnetic pulses into the ground. These bounce off buried features and the time taken for them to be reflected allows a 3D picture of what's under the earth to be built up. The GPR kit is carried on a trailer and will be walked up and down over the Common so nothing on the surface is damaged.
Given the academic and historic interest in the Occupation and what went on under German rule in Alderney, Dr de Jersey says they will be sharing their findings with Dr Sturdy Colls and others:
"It's obviously relevant to the work that she's done there and if we can provide more information for people to make reasoned and sensible discussions about it, then that's job done, that's what we aim to do."
The dig and GPR survey take place between 26 May and 4 June.