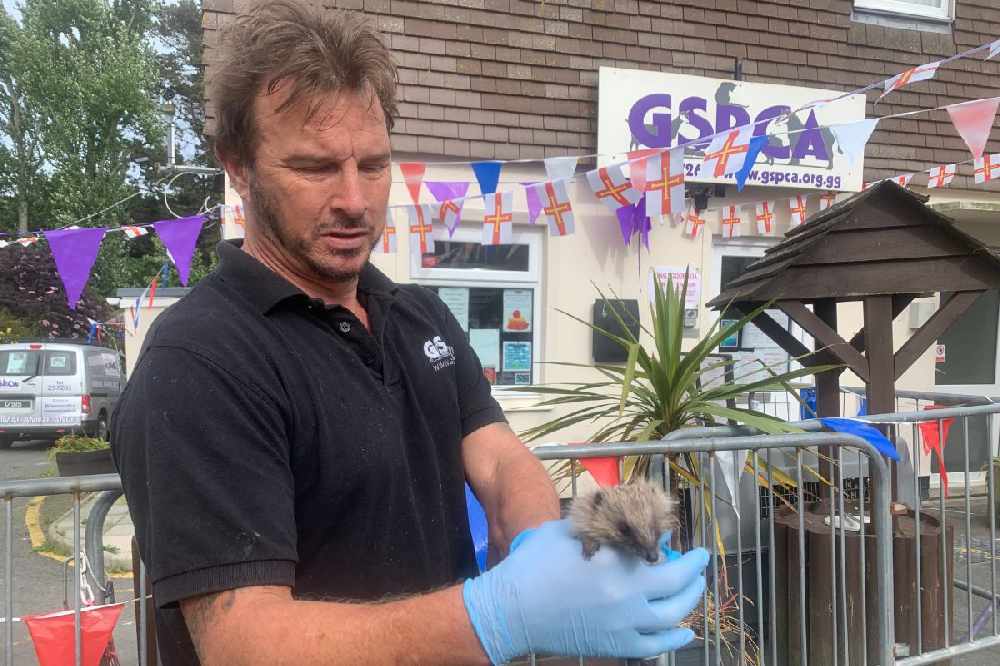 GSPCA asks islanders to feed and water the animals and be careful when working in the garden.
The GSPCA received a record number of hedgehogs in one day today (29 July 2020). Of the 13 admitted two were able to go back to the wild, one was sadly deceased on arrival and 10 others are now in the shelter's Hedgehog Department with a variety of injuries, ailments and ages requiring care.
The shelter has taken in a total of 348 hedgehogs during 2020 since the 1 January.
Steve Byrne, shelter manager says: "Hedgehogs can be found in every Parish in Guernsey and happily move throughout the island and as many are still breeding and rearing young they can often be seen day and night looking for food and especially water in the recent hot weather.
"We can all help our spikey friends by providing food and water for them in our gardens and outside spaces. A fresh bowl of water can help not just the hedgehogs, but other visiting wildlife and especially the birds.
"But please take care when providing feed for hedgehogs to ensure it is suitable as there are many things they can't digest and disagree with them."
The GSPCA recommends we do NOT feed hedgehogs the following items:
Bread
Dairy: Milk.
Fruits: Grapes and raisins.
Citrus fruits. Avocado.
Vegetables: Onion. Garlic. Potato.
Meats: Processed and canned meat.
Raw meat.
All nuts and seeds.
Chocolate.
To help hedgehogs please help supplement their diet in the wild by offering either a good quality hedgehog food, meaty cat or dog food. During the summer months please avoid dry biscuits or if you do use them please soak them well in water before putting them out. The reason for this is dry biscuits will mean they need to consume larger amounts of water which might be scarce in the warm weather
Only ever offer water to drink.
Other dangers for hedgehogs at this time of year include:
Swimming pools, douits and ponds with no shallow area – hedgehogs are good swimmers but need somewhere to climb out from the water
Slug pellets – pest control is a real danger to hedgehogs so please avoid using non natural options
Strimmer's, hedge cutters, lawn mowers and gardening instruments – almost every day through the summer the shelter helps hedgehogs hurt through people gardening and not checking the areas they are working on for wildlife first
Gardening netting, football nets, tennis nets and similar – where possible avoid using netting or leaving any type of nets out. With an average 8000 spines per hedgehog they can easily get caught and the shelter has already helped a number this year in Guernsey for this reason
Rubbish bags – rubbish bags can often be attractive to hedgehogs but they can get entangled with the contents or trapped when the bag moves when they are inside which can lead to their death
Drains – drains left uncovered often can lead to hedgehogs falling in and trapping them and in many cases it is too late when they are found
Sheds, garages and outhouses – often during this time of year we are out and about in the garden and leaving the doors open to out buildings may be attractive to a wondering hedgehog so please check inside before locking them up to ensure there is no wildlife trapped inside
Driving – hedgehogs are often moving around in search for food and water, or partners so please take care on the roads as many will have seen those not so lucky trying to cross the road
Steve Byrne says: "Last month some kind person bought a new unit for us and you can help us buy more of these much needed units by visiting https://www.justgiving.com/fundraising/gspcaintensivecare or to buy one directly please visit https://brinsea.co.uk/small-animal-care/tlc-intensive-care-incubators/tlc-30-advance/ ."