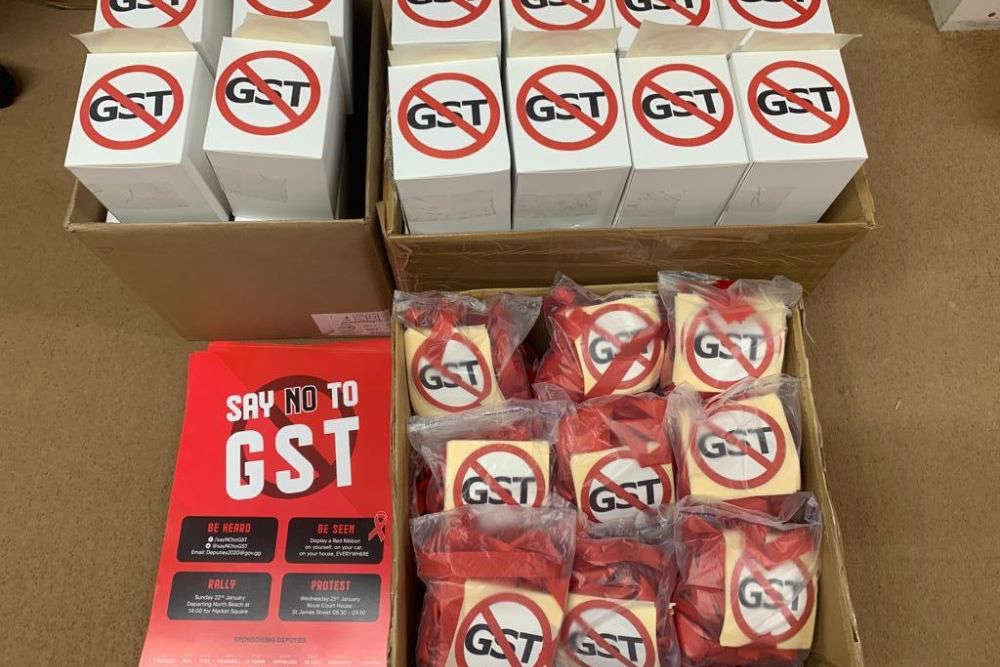 49,000 items of anti-GST campaign material are being distributed around Guernsey.
With less than a week to go before the big tax debate, anti-GST campaigners say virtually all their promotional material has been distributed.
This includes one thousand 'Say NO to GST' posters, 8,000 biodegradable red ribbons and 5,000 badges.
5,000 car stickers have been given to multiple garages and shops and 30,000 leaflets are being dropped through letterboxes.
Deputy Carl Meerveld developed the marketing strategy for the campaign, but says the materials took time to arrive:
"Difficulties producing materials over the Christmas break and weather delays to shipping meant we got started very late but, with the help of volunteers, all the materials have been distributed in record time with the badges proving particularly popular, running out within three days.
The public response has been fantastic, with overwhelming support. We just hope that people will follow through on our four calls to action.
I am confident that when Deputies see the strength of feeling against this regressive tax, the introduction of GST will be abandoned."
He reminds islanders that there is a rally on 22 January starting at North Beach and a protest outside Royal Court House on the morning of the tax and social security review debate (25 January).
The Policy and Resources Committee says its tax and social security package will put more than £2,000 a year into the pockets of working people.
It says the less well off will be cushioned from the effects of GST because of social security reforms.