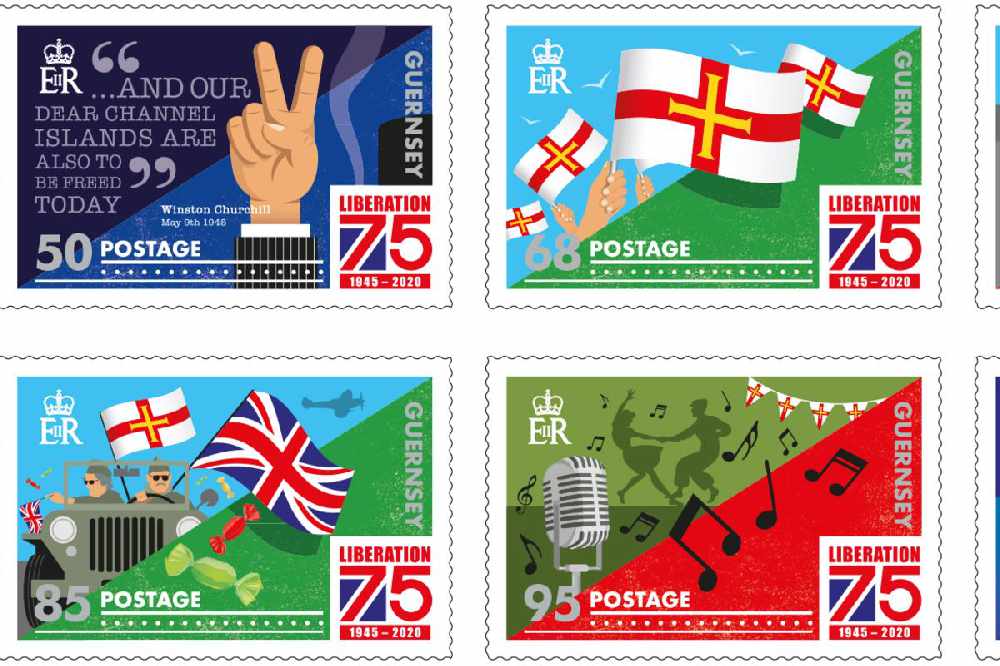 75th anniversary marked with special stamp issue.
Guernsey Post announces that it is to mark the 75 th anniversary of Guernsey's Liberation with a special set of commemorative stamps designed to blend modern-day celebrations with elements taken from stamps issued during World War II (stamp issue date: 2 May 2020).
The Occupation of Guernsey began at around 8.30pm on Sunday 30 June, with German troop numbers roughly equaling the number of remaining islanders who had to endure hunger, poor medical attention, and fear.
After five long years, surrender of the Channel Islands eventually took place during the early hours of 9 May 1945, the day after Victory in Europe, VE Day. Malnourished - but nevertheless joyous - crowds gathered on St Peter Port seafront and harbour as the first British Troops landed.
Bridget Yabsley, head of philatelic at Guernsey Post said: - "Liberation Day in Guernsey is celebrated each year on 9 May, and is a hugely significant event in the history of the Channel Islands. Crowds gather along the seafront in St Peter Port and a variety of entertainment including marching bands, live music and a military cavalcade provide a festival atmosphere. A large firework display at Castle Cornet would provide a fitting end to the day's celebrations.
"Unfortunately, due to the Coronavirus pandemic, the plans for this year's celebrations will not be able to go ahead as planned. Instead, organisers will develop a programme of events to commemorate the 75th anniversary, re-shaped in line with the island's efforts to combat
coronavirus.
"However, we are delighted and proud to be able to mark the 75 th anniversary of Guernsey's freedom from Occupation with our commemorative stamps. The designs depict elements both of modern day Liberation celebrations and of stamps used during the War; the bisecting line reflects that stamps were cut in half diagonally during the war to extend supplies; and the colours on the lower right half of the stamps reflect those used for the
denominations of postage stamps during the Occupation."
The stamp products are available to preorder now by visiting www.guernseystamps.com or contacting the bureau on +44 (0) 1481 716486.