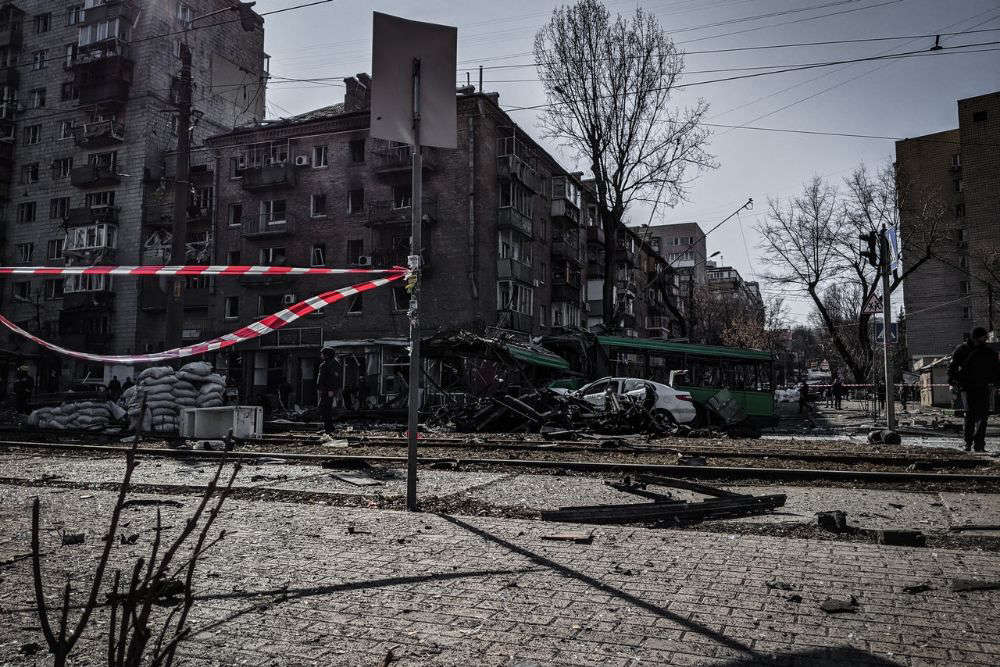 In a day of spirited speeches in the Royal Court Guernsey's politicians have condemned Russia's war in Ukraine.
The island's parliament has passed a motion recording its formal opposition to the invasion.
Deputies have expressed their solidarity with Ukraine.
It was presented by Policy & Resources President Deputy Peter Ferbrache, who called it a 'public pronouncement of its unequivocal and unreserved support to the magnificent and brave people of the Ukraine' in the fight against President Putin's aims 'to create an evil empire'.
He said, in the people of Ukraine, islanders recognise 'kindred spirits'.
"They want their elderly people to live in peace, and not in fear. They want to be able to celebrate in their theatres without being murdered in them. They want to be able to sleep, eat and live in their homes without them being destroyed. They want to live in peace. They want to be free."
The Chief Minister also called the Russian Federation 'monsters, bullies and aggressive murderers'.
"The resolution shows that the States of Guernsey stands with other democratic governments in condemning the unwarranted and unjust acts of aggression of the Russian Federation against the sovereign state of Ukraine and its people. And the States of Guernsey supports the government and people of Ukraine in their valiant and heroic struggle to remain free and determine their own future."
Deputy Peter Roffey backed the Chief Minister's call and gave this insight:
"I think the reason for this war is that Putin sees Ukraine as a threat. Not a military threat, but a threat by example. Because he knows that the Russian people know that the people of Ukraine regard them as being very similar - brothers and sisters - having lived under the Soviet Union, particularly the people of Eastern Ukraine who are Russian-speaking and more Russian ethnic, and it can be seen that until a few weeks ago they were enjoying the fruits of a liberal democracy and were being shown how it could thrive. Putin and his acolytes were petrified of Russians looking across the border and knowing if it can work for the Ukraine, it can work for Russia as well."
Deputies were also asked to look at how the island might accommodate refugees and asylum seekers in future.
Deputy Gavin St Pier said work being done by States committees to enable the islands to accept refugees by adopting the UK's Homes for Ukraine sponsorship scheme should be widened to include others fleeing conflict.
He was asking that policies and legislation adopted in response to the Ukrainian conflict be considered to see where they can be applied to other refugees or asylum seekers.
"Deputy Ferbrache quite rightly referred to the 6.5 million refugees displaced within Ukraine and the 3.5 million externally displaced. He also referred to the very many atrocities that we have witnessed across our screens. Sadly these atrocities are not purely confined to this conflict or conflicts in Europe. We know that they do exist elsewhere, therefore ensuring that we have an appropriate policy regime that is fit for purpose for tackling future conflicts is important."
The amendment upset Home Affairs President Deputy Rob Prow who said it impinged on his committee's work, and who criticised Deputy St Pier for not contacting him about his amendment.
The amendment was initially approved, but defeated in the final vote by 25-15.
Six families in the Bailiwick are now sheltering 12 Ukrainian family members.
More than 200 islanders have registered their interest in opening their homes to those seeking safety.
Guernsey's government has already imposed sanctions on Russia in line with the UK and given £500,000 to the humanitarian aid effort to support Ukrainian refugees.