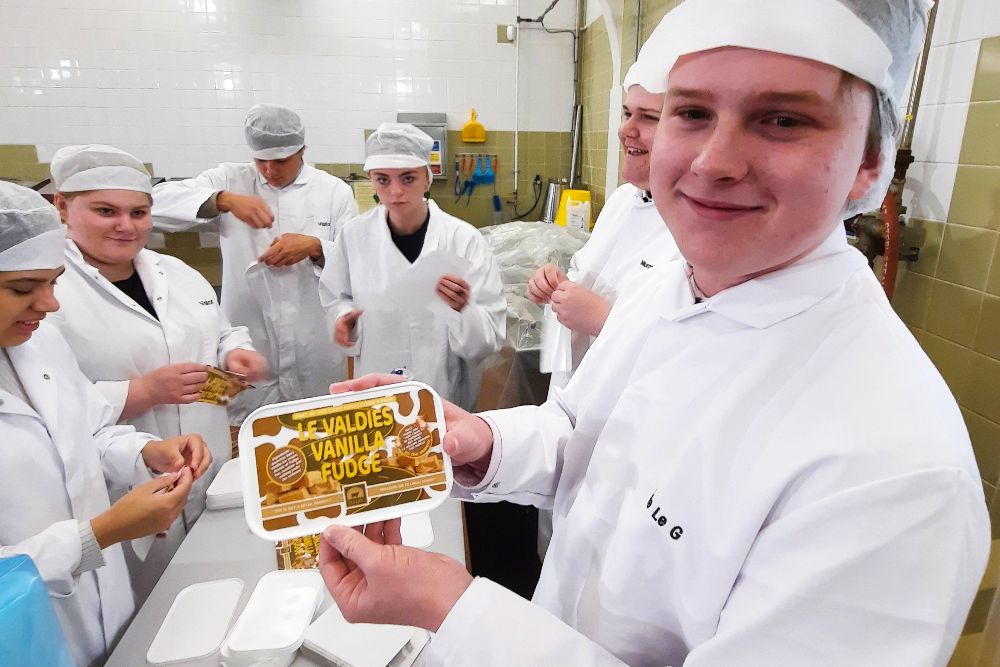 A new ice cream flavour - thought up by Sixth Form students - will go on sale in Guernsey this weekend.
Emily Griggs and Francois Le Poidevin from the Grammar School have won a competition with their 'Cobo Collection' flavours.
They use Guernsey Diary's vanilla, chocolate and strawberry but with added local ingredients such as 'Le Valdies Vanilla fudge' and branded with a local theme.
Member of Guernsey Dairy Management Sarah Macknight was on the judging panel and says it was tough competition.
"I was extremely impressed with the calibre and the standard of the presentations. To stand up and present to a panel of external judges and your peers is not easy.
"The presentations were very professional, delivered very well and it was obvious that considerable time, effort and thought had gone into them. I thoroughly enjoyed meeting all the students and their enthusiasm for the project was infectious."
Mrs Macknight explained why the winner was chosen.
"Their presentation just had that little bit more creativity and finesse than others."
In addition to Le Valdies Vanilla Fudge, their flavours included Chocolate Chunk, Sea Salted Caramel - Saints Bay Swirl, Fermain's Fruity Fun and Cliff Walk Coffee and Nut.
The winning flavours will be sold at this weekend's Seafront Sunday event (27 June) to raise money for 'Guernsey Mind' and 'Morgan is Me.'
This business challenge was part of the school's annual Enrichment Project for its Year 12 A Level Business Studies and IB students who were each tasked to develop an exciting new ice cream flavour.
The aim of the project was to not only help the them apply knowledge to the real world, but also to build experience of running team projects and of creating and managing a brief.
Mr Erich Hauptfleisch is Head of the school's Business Studies Department. He was pleased with all the students' achievements.
"I had confidence our students would rise to the challenge. As a teacher I was nervous for them as the recent second lockdown had affected our momentum with this project.
"However, they all managed to come up with some solid data in their market research, had creative ice cream packaging ideas, a number of interesting flavours (my favourite ones were Torteval Millionaire Shortbread and Guernsey Banoffee) and promising promotional campaigns to launch a new premium ice cream.
"We would like to thank, Jon Taylor, senior manager at States of Guernsey Trading Group and the other panellists for sitting through 19 presentations and for their courage to taste all the ice cream samples.
"It would be great if the Guernsey Dairy could take some of our student's ideas and launch a new flavour of premium ice cream that the Guernsey community could feel proud of and see as their first choice of premium ice cream."