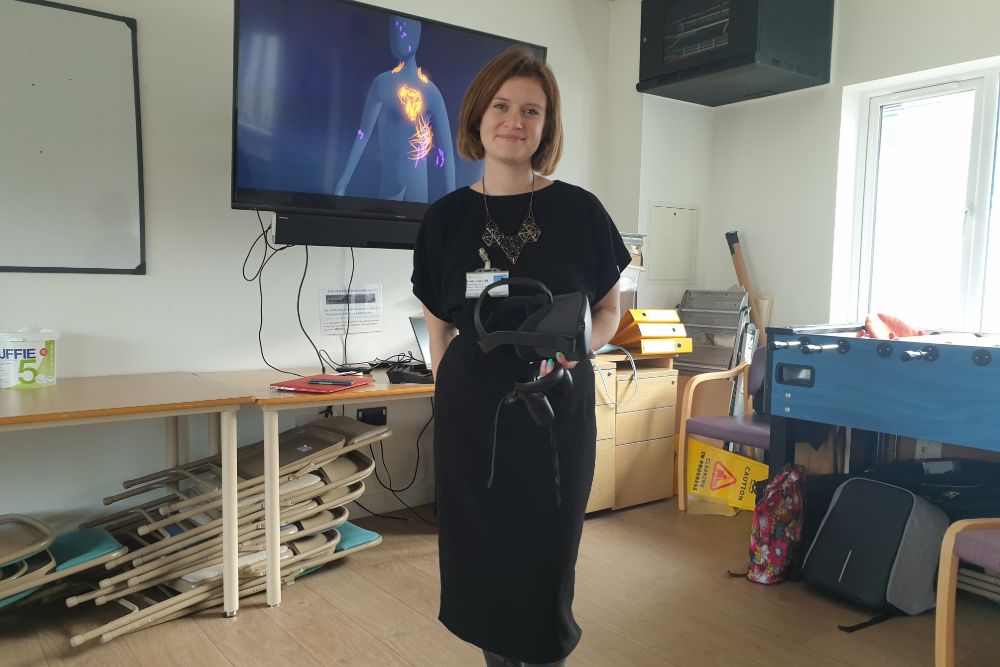 Sarah Ticho holding one of the VR headsets in front of an example image showing pain through VR.
Growing interest in the use of VR as a treatment for pain.
Patients in Guernsey could be able to us VR as a way to treat pain.
The Pain Management team in Guernsey are doing some trialing to see the effect the treatment has on patients and to see if it is worth introducing into the island. Their focus is to empower the patient to self-manage and rehabilitate so that pain because less intrusive in their daily lives.
Initially they will be trialing it on patients who will go to the pain management service. A proper clinical pathway will need to be developed as well as looking at pros and cons, ethics, infection control, costs and clinical application, before the treatment would be available for patients.
VR is a simulated experience that can be similar to, or completely different from the real world. It was first applied in pain management as a distraction tool for burns patients that were having difficult procedures that were traumatic for them. A virtual reality experience was created which made the patients seem as if they were in a 'snow world.' From doing this they found it was reducing their pain by up to 60%.
We're told it can be used to help patients in many different areas such as phobias and physiotherapy
An experiment using VR to treat a fear of heights found about a 68% reduction in the fear after the treatment. It does have some side effects such as nausea, if you are moving when the head set is on, it can give the same effect as being car sick.
The Pain Management Team works with individuals, who have been in pain for many months and years. Some patients with persistent pain find it difficult to function properly because of their pain. Often the pain persists because the brain and nervous system have become hard wired to report pain, even in the absence of physical damage.