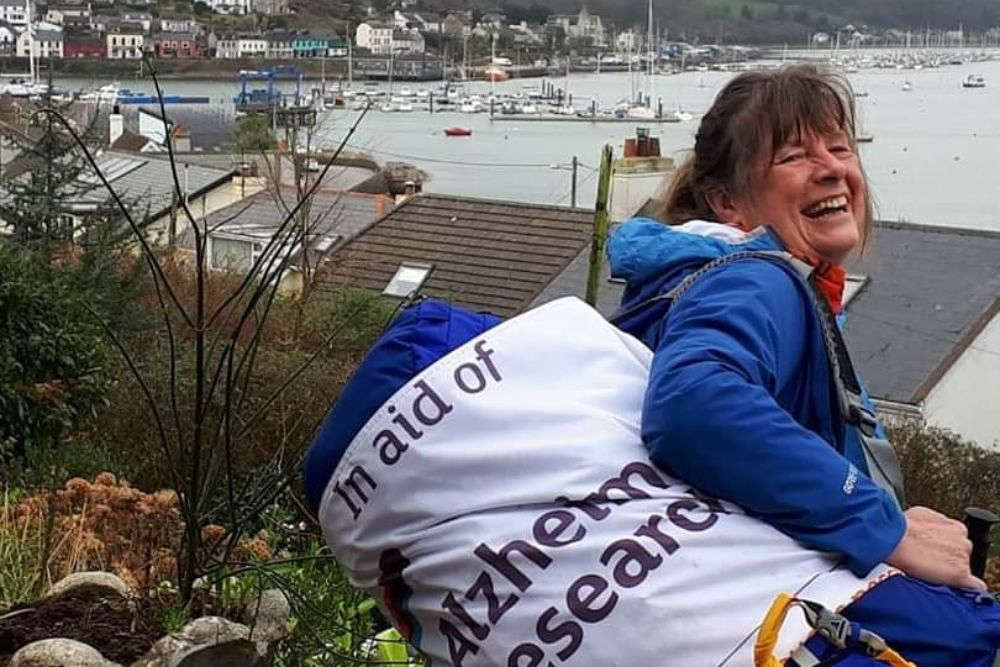 Credit: Karen Penny
Karen Penny is aiming to walk around the entire coastline of the UK, Ireland and Channel Islands.
Karen has reached the Guernsey part of her mammoth challenge in aid of Alzheimers Research UK.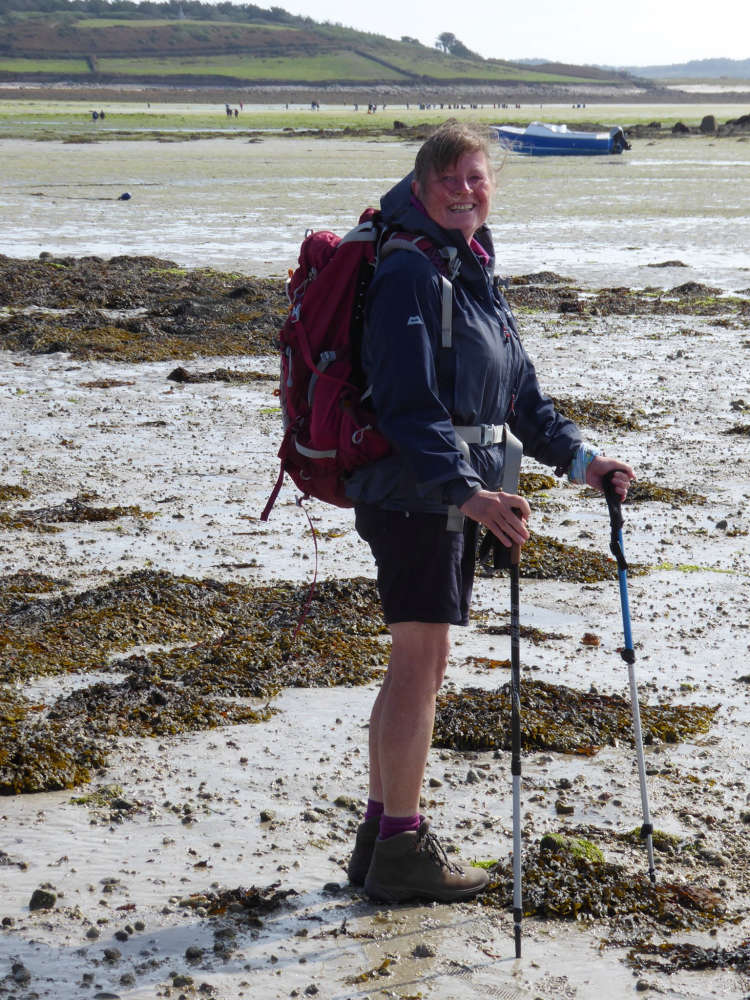 Karen's journey has been documented via a Facebook group. She has made her way to Alderney today (7 July) to circumnavigate the island.
Before arriving in the Bailiwick, she had walked a total of 9,400 miles around the coasts of Ireland, Wales, Scotland and England.
The charitable walker has been telling Island FM why she's challenged herself in this way.
"The reason why I'm doing this huge walk is to raise money and awareness for Alzheimers Research UK. In the past I've walked from John O'Groats to Land's End and what I really wanted to do was to do something that really created as much awareness as it possibly could - and why not do the biggest challenge that you're able to do - and certainly in my capability - walk around Britain.
"I love walking, I'm passionate about Alzheimers having lost two very dear members of our family to Alzheimers and dementia, and we wanted to do something for their legacy.
"We work flat out. My husband planning all the routes and me, walking round speaking to as many radio stations and newspapers as we can as we go, going into the care homes and schools to talk to people about Alzheimers, and just trying to raise the profile of Alzheimers Research."
Despite weather conditions in the Bailiwick being overcast and cloudy this week, it doesn't compare to some of the situations Karen has found herself in.
She explains there have been some challenges along the way.
"I've walked through all the named storms you can think of - they're alphabetical and I think I've gone through the whole alphabet already with them. Certainly Scotland was challenging, there's no question about it. I arrived in the winter, it was thick snow/hail. A storm in Shetland forced me to pick my tent up and run off to the ferry toilets to sleep in there for the night on the bench sadly.
"But, people look out for you; people are very kind. In poor weather, I'm often getting offers of help to come and stay the night with people or they'll put me up in a safe environment."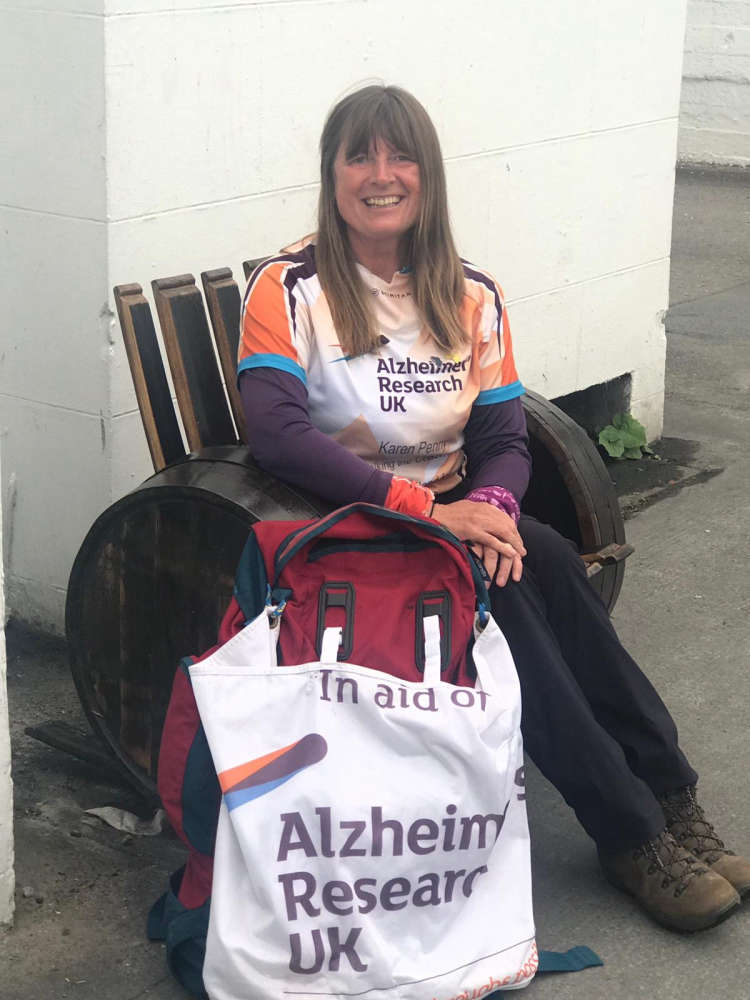 So far, Karen has raised already £86,000 towards her target of £110,000. You can find her JustGiving page here.
She is inviting any islanders who have experiences to share or who would like to help draw awareness to get their walking shoes on. They can either look out for her around the island or contact the Alderney Wildlife Trust who are helping to support the Alderney leg of her walk.
Karen's Channel Island Itinerary
Monday 5th July Arrive Guernsey from Poole.
Tuesday 6th July Walk Guernsey from Cobo via Chouet and Bordeaux to St Peter Port 6pm Catch flight Alderney
Wednesday 7th July Alderney
Thursday 8th July Return from Alderney 7.30am walk from St Peter Port via Jerbourg via Le Gouffre Guernsey
Friday 9th July Walk from Le Gouffre to Cobo via Pleinmont Guernsey
Saturday 10th July clear Guernsey
Sunday 11th July Travel to Herm from Alderney 10.15 am ferry. Return 17.35 Herm
Monday 12th July 10.25 am Travel to Sark Walk Sark
Tuesday 13th July Sark Walk
Wednesday 14th July Return from Sark, walk to airport. Flight to Jersey
Thursday 15th July St Hellier Via Longbeach to St Catherine Jersey
Friday 16th July St Catherine via White Rock and Piere De La Fatelle to Les Fontaines Jersey
Saturday 17th July Les Fontaines Via Devil's Hole, Greve de Lecq, Grosnez to Le Braye Jersey
Sunday 18th July Le Braye via Beauport, Noirmont, St Aubin to St Hellier Jersey
Monday 19th July Return to Poole 16.50 Jersey