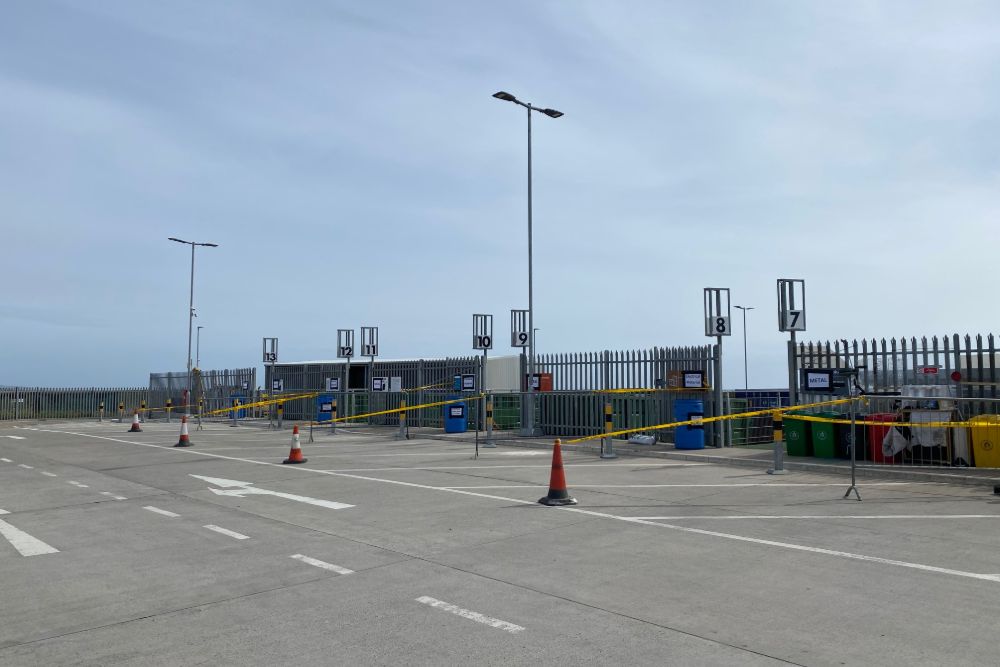 Credit: Recycling For Guernsey
Islanders with waste and rubbish they can't store any longer are able to dispose of it from today.
The Household Waste & Recycling Centre and Chouet green waste site have reopened as part of Stage 1 of Guernsey's lockdown exit.
The authorities say the move is for islanders with materials they are unable to keep hold of any longer.
There are likely to be delays at both sites because strict restrictions are in place, with site staff managing traffic and restricting the number of people on site.
A drop off bay system is in place, so that islanders can safely unload while adhering to social distancing.
Payment for dropping off non-recyclable items have to be made by credit or debit card.
States of Guernsey Chief Executive Paul Whitfield says all site users will be required to wear face coverings, unless exempt.
"These sites will be open under strict distancing and PPE requirements, and the number of people allowed onto the sight will be regulated by the staff. So, there may be longer delays getting through the facilities than you would normally experience.
"Commercial waste sights at Longue Hougue and Mont Cuet will also be open Monday (22 February) for commercial customers. But, I will remind us all that bring banks will remain closed until Stage 2.
"Please keep an eye on social media, where Guernsey Waste will update with the latest information regularly."
Sarah Robinson is Guernsey Waste's Operations Manager and asks people to only use the sites if they really need to:
"We would ask everyone, in line with Public Health's continued message to stay at home, to only come to the sites if absolutely necessary, and if you do, please be patient.
"Users are asked to come alone wherever possible, unless they need to bring another member of their household to help unload their vehicle. As always abuse of site staff will not be tolerated and commercial customers are prohibited and will be turned away."
The HWRC is closed on Thursdays, but open for drop off Monday to Wednesday and Friday to Saturday: 8am-4pm. Sunday's: 8am-12pm.
The site at Mont Cuet is open Monday to Saturday: 8am-4pm and Sunday 8am-12pm.
The types of items that are able to be disposed of there include polystyrene, paint and furniture that is not suitable for reuse.
Clothing for the Salvation Army bank and items for reuse, normally taken by charity reuse partner GO, will not be accepted for now. Islanders are asked to keep hold of these for the time being.