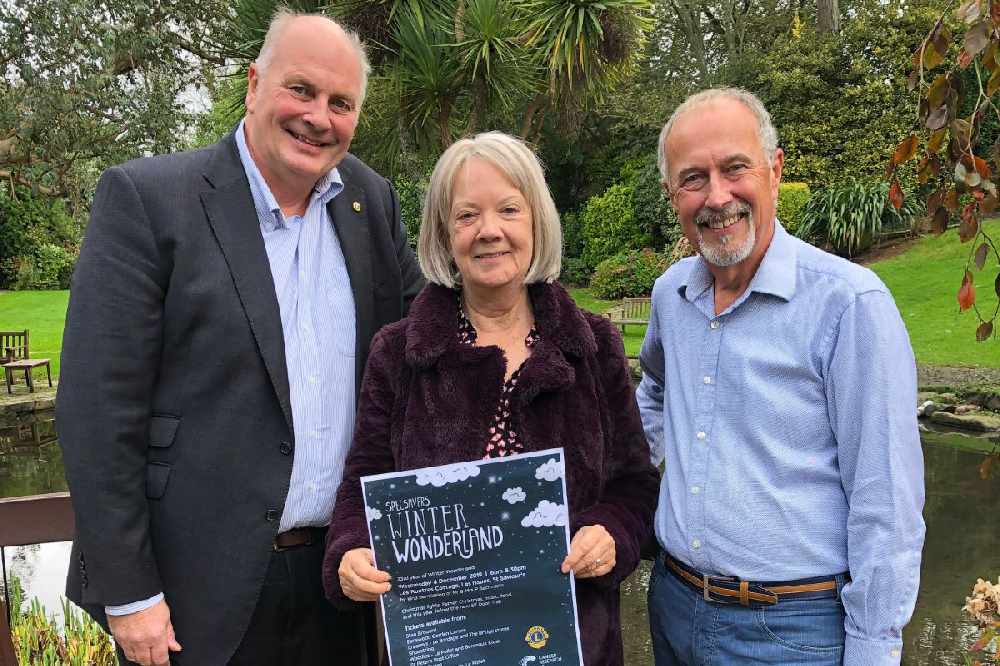 Rob Holder of the Lions Club of Guernsey, Dame Mary Perkins, Bryan Lean chair of the Cancer Research UK branch
Specsavers partners with the Lions Club and Cancer Research UK to host the annual event,
The spirit of Christmas will return to St Saviour's later this year with a new title sponsor bringing islanders the 23rd Winter Wonderland.
The Lions Club of Guernsey and Cancer Research UK Guernsey branch are joining Specsavers to host the event, which will take place on Wednesday 4 December from 6pm to 8.30pm.
The popular spectacle is expected to attract more than 3,000 visitors to the grounds of the Bachmann's family home.
All money raised at the event will be split evenly between the two charities.
Rob Holder, president of the Lions Club of Guernsey, says: "The event not only signals the start of Christmas for many islanders but also raises essential funds for those in need at this time of year.'
Chair of the Cancer Research UK Guernsey branch, Bryan Lean, says: 'This is a wonderful festive experience for families to enjoy, while also supporting our funded research to ensure 'We Will Beat Cancer'."
A Christmas-themed marquee, sponsored by Skipton International, will be filled with a variety of stalls, including hot food and drinks, a bottle stall and glow products for children.
New to this year includes stands from Iris and Dora, Mazzouk and The Waffle & Co.
Guernsey Electricity will also be supplying generators throughout the evening to help power all the lights and Specsavers will again provide free buses from the company's car park to shuttle people back and forth to the venue.
Co-founder Dame Mary Perkins says: "Specsavers has been a proud member of the Guernsey community for 35 years, so we are delighted to be supporting this long-standing event."
Tickets will be on sale from Monday 4 November at Stan Brouard, Earlswood Garden Centre, Creaseys (Le Bordage and the Bridge stores),
Shoestring, Woodies (Le Pollet and Bordeaux kiosk), St Peter's Post Office, Forest Store and Cancer Research shop, Le Pollet.