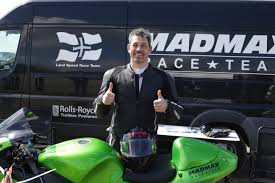 Guernsey racer, Zef Eisenberg, has smashed four world records on an electric motor bike this weekend.
Zef was riding the bike at an FIM event held in Elvington, North Yorkshire.
He was riding a specifically built bike, originally to be ridden by friend and fellow MADMAX racer Daley Mathison.
However, following Daley's fatal passing at the last TT IOM earlier this year, in a super-bike crash, it was agreed Zef would ride the bike in tribute to him.
The bike reached a top average speed of 185.1 miles per hour.
Zef now holds over 50 speed world-records to his name.