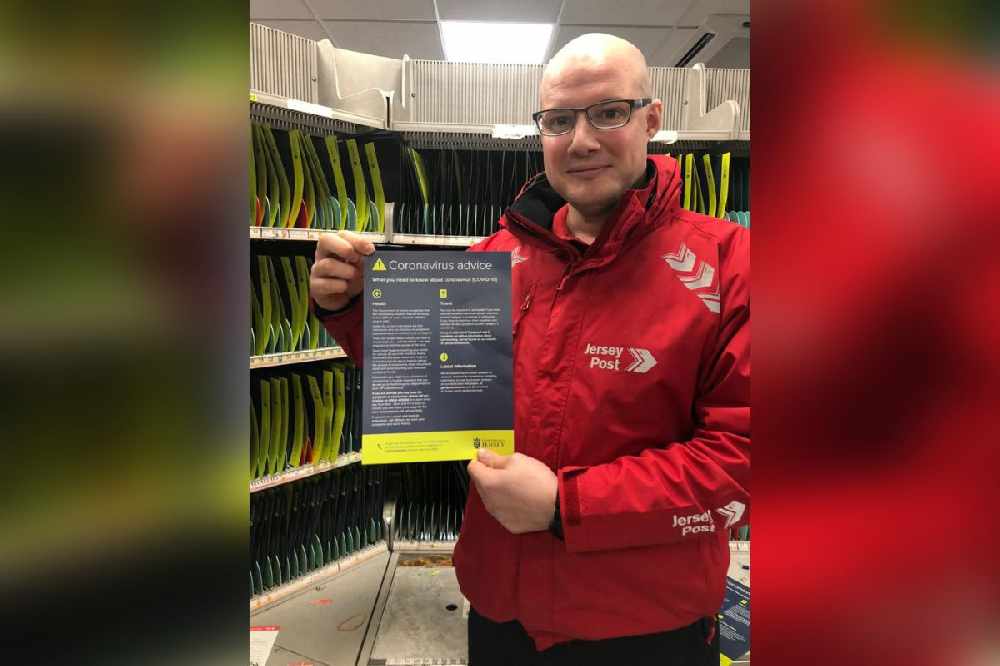 Leaflets are being delivered to all Jersey homes from today with health, travel and hygiene advice relating to coronavirus. It comes as the Emergencies Council meets today.
Jersey Post is distributing them to 46,000 households.
The leaflets have been produced by Jersey's government.
They explain that infection is mild in 80% of cases and that current indications are that people who aren't showing symptoms are unlikely to be contagious.
They also emphasise the importance of hand hygiene and point to advice for businesses and anyone planning to travel off-island.
There are currently two confirmed cases of Covid-19 in Jersey. The second was announced on Wednesday evening.
On Wednesday, the World Health Organisation declared the outbreak a pandemic.
Jersey's Deputy Medical Officer of Health says islanders should 'not be alarmed, remain calm and continue as normal.'
Dr Ivan Muscat says the pandemic is a geographical term meaning its spread worldwide rather than becoming more severe.
He insists that Jersey remains well-prepared to deal with Coronavirus.
"We are aware of the change in status regarding COVID-19 and continue to closely monitor developments from WHO. Our advice on self-isolation for people returning from affected countries and on general hygiene remains unchanged."
The Emergencies Council - chaired by the Chief Minister - is due to meet today to review how the island will manage the disease.
That meeting, which is closed to the public and the media, is taking place at the Old Library in the Royal Court Building.
What is the Emergencies Council?
The Emergencies Council is the overarching body responsible for dealing with emergency situations in Jersey. The Council holds full executive powers for decision-making and strategy in the event of major emergency as directed by the Emergency Powers and
Planning (Jersey) Law 1990.

By law, Jersey must have an Emergencies Council in place. Under the Law, the Council "co- ordinate the planning, organisation and implementation of measures which are designed to guard against, prevent, reduce, mitigate or overcome the effects or possible effects of any happening, event or circumstance that causes or may cause loss of life or injury or distress or hardship to persons or that in any way endangers or may endanger the health or safety of the community or that in any way threatens to deprive the community of the necessities of life."

The Emergencies Council, the Emergency Planning Board and the Emergency Planning Officer each play a role in planning for and responding to any major emergency or disaster in, or affecting, Jersey. They may provide:
*specialist knowledge
*equipment, people and resources
*support, care and welfare

Who sits on the Emergencies Council?
The council is made up of:
Chief Minister, Senator John Le Fondré, chairman of the Council
Minister for Home Affairs, Connétable Len Norman
Minister for Economic Development, Tourism, Sport and Culture, Senator Lyndon Farnham
Minister for Infrastructure, Deputy Kevin Lewis
Minister for Health and Social Services, Deputy Richard Renouf
Minister for External Relations, Senator Ian Gorst
Chair of the Committee des Connétables, Connétable Deidre Mezbourian
The Bailiff, the Lieutenant-Governor and the Attorney General are entitled to attend and be heard at any meeting of the Council.

How regularly do the Emergencies Council meet?
Island preparedness, safety and resilience are discussed biannually at the political level by the Emergencies Council, chaired by the Chief Minister. In addition, the Chief Minister may call a meeting of the Council at any time

This sets political priorities for the executive body, known as the Emergency Planning Board, which meets three times a year and is chaired by the Chief Executive.

When did the Emergencies Council last meet?
24 October 2019

How does the Emergencies Council operate?
To support the development of a fully integrated response to major incidents in Jersey, the Emergencies Council and Emergency Planning Board have accepted the principles of the United Kingdom Civil Contingencies Act 2004, which delivers a single framework for civil protection in the United Kingdom to reflect the challenges of the 21st Century.

Will there be minutes published following the meeting?
The government says it will share the key topics of discussion following the meeting.
---

Coronavirus Advice
If you think you might have the virus, you should self-isolate and call the Health Department's coronavirus helpline:
01534 445566
It's open every day between 8am and 8pm. Calls outside these times, or when the line is engaged, won't be answered straight away - but we're told to leave a message and Health officials will call you back.
Please don't visit your GP or the Emergency Department at the General Hospital if you think you have the virus.
Self-isolation
Coronavirus symptoms are similar to that of the flu - a combination of a cough, fever and aching muscles. If you've had any symptoms, even if you haven't travelled abroad, we're being told to self-isolate until they clear up (for a minimum of seven days).
Anyone who has come into contact with a person confirmed to have the coronavirus should stay in self-isolation for at least 14 days.
As of Saturday 28th March, entire households should self-isolate immediately if anyone within that home shows symptoms of coronavirus.
Social distancing
Jersey is in lockdown until 30 April to reduce the spread of Covid-19.
All islanders who are 'not performing essential services' are required to stay at home.
You should only leave home for up to two hours per day to shop for essentials, exercise or get medical treatment if needed. More information here.
On Thursday 26th March, Jersey's government issued stricter measures for over 65s and islanders with underlying health problems - saying they should only leave the house for up to 2 hours a day and only for very limited reasons. Those at severe risk from Covid-19 should adhere to strict self-isolation.
Read the Health Department's advice for over 65s here.
Travelling
The Government of Jersey is now advising against all non-essential travel on or off the island and all passenger ferry sailings and most airline services have been suspended.
All travellers, including health care workers, arriving in Jersey from anywhere must now self-isolate for 14 days. This is regardless of whether they are displaying flu-like symptoms or not.
The only exceptions to this are non-healthcare, essential workers, if they are not displaying flu-like symptoms.
Guidance for travellers:
solo travellers, who live alone, should immediately go into self-isolation
a family or group travelling together should all immediately go into self-isolation
where a solo traveller is returning to a shared or family home and is not showing any symptoms of infection, they should separate themselves from others in the home in accordance with self-isolation advice for 14 days. Family members should strictly follow social distancing advice
where a solo traveller is returning to a shared or family home and is showing any symptoms of infection, they should separate themselves from others in the home in accordance with self-isolation advice (for a minimum of 14 days and until a 48 hour period of being symptom free). Household members who have had any contact with the symptomatic patient whilst symptomatic or in the 3 days before symptoms appeared should self isolate as well
During the self-isolation period of 14 days, anyone who develops flu-like symptoms should call the helpline on +44 (0) 1534 445566.
All the latest information can be found on Gov.je.