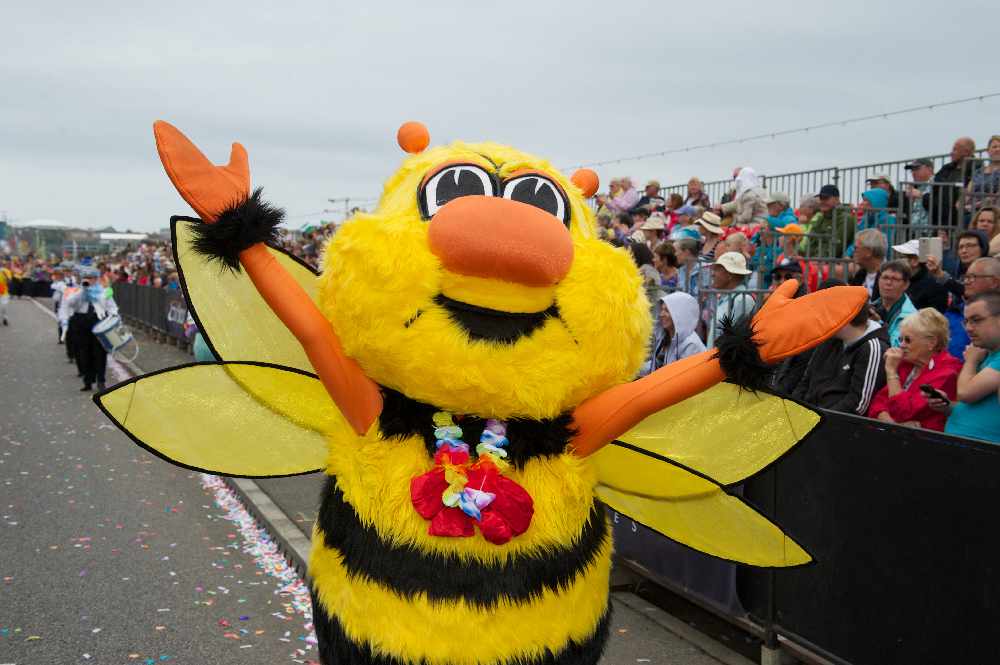 The Battle Bee at 2019 parade.
Jersey's Battle of Flowers parade is back for the first time since the coronavirus pandemic began, and it's the hottest ever!
The summer carnival is making a comeback.
It hasn't been staged since 2019, with Covid-19 forcing the cancellation of both the 2020 and 2021 events.
Colourful and creative floats decorated with real or paper flowers will parade along the arena on Victoria Avenue.
This year marks 120 years since the very first Battle of Flowers, held in 1902 to celebrate the coronation of King Edward VII.
The 2019 winners, The Optimists, return with a 'When Movies were Movies' theme. It features a silent film set on two large reels with the backdrop of a 1920s art deco cinema.
There'll also be a revolving cake stand with people dressed as oversized cupcakes courtesy of St Lawrence's 'Battle of Flours' float as well as an entry called 'Ghost Train' depicting an abandoned theme park ride.
Mary Poppins, Pirates and Princesses and Ghostbusters also feature.
Battle Chair Margaret Fitzgerald is delighted to see the return of the parades.
"People have had a two year rest, and we are just hoping the enthusiasm is still there - but it seems to be bustling... everybody's getting excited about putting on the parades again.
It's our 120th year so we couldn't miss this one. Everyone is really geared up for it, and it's going to be great - especially with the weather we have got!"
It is the hottest ever Battle day before it even gets officially underway.
It has gone above 29°C already, with a high of 32°C forecast.
The previous record was 28.1°C in both 1909 and 1995.
Spectators are being reminded to take precautions such as wearing suncream and a hat, loose clothing and drinking plenty of water.
Jersey's Bailiff Tim Le Cocq will get the show started at 2.30 when he declares 'Let Battle commence!'
The Aerosparx Display team will end today's parade, and the award winners will be announced at around 4.30pm.
Channel 103's Lee Cornick will be bringing you the highlights of the Day Parade in Jason King's Afternoon Show from 2pm.