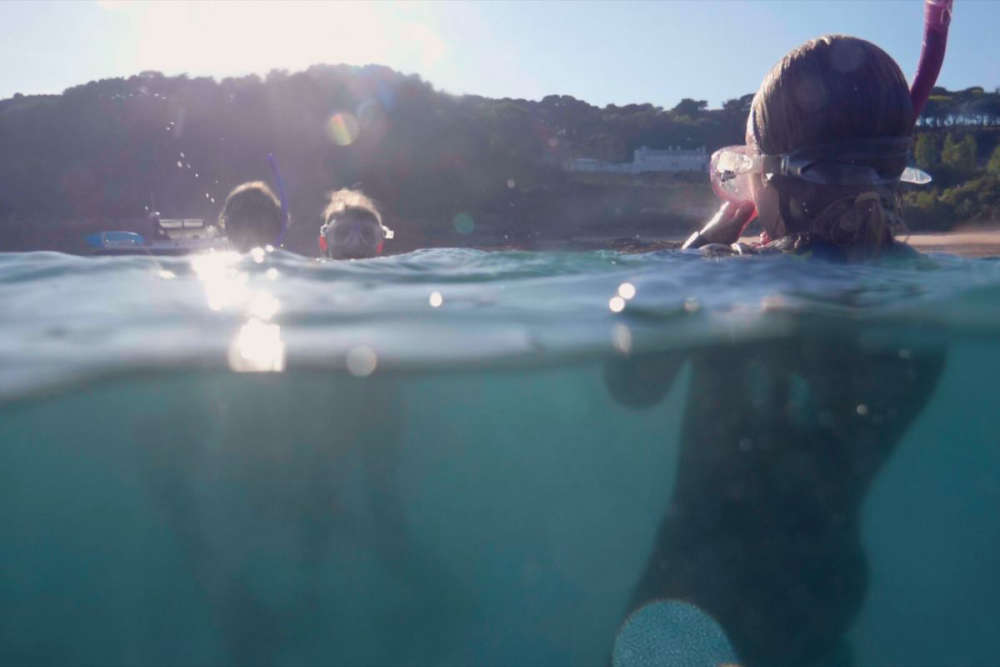 Credit: Matt Jarvis/Blue Marine Foundation
Bouley Bay has been made the island's second snorkel trail by the Blue Marine Foundation, behind Portelet Bay.
The trail across the north coast will be in three components, with the actual trail as well as an education programme and a science portal.
The self-guided course is itself split into three different parts, all named after marine species.
Seahorse is along the western part of the bay, which is home to pipefish, pollock and the namesake seahorse.
The second is dubbed 'cuttlefish' and explores the 'the rocky crevices' of L'Islet, which houses cuttlefish rays and spider crabs.
The last, called 'wrasse', is labelled as the 'advanced route' which goes around L'Islet.
L'Islet//Credit: Matt Jarvis, Blue Marine Foundation.
Blue Marine Foundation project officer Kathryn Smith explains why they chose to hold the programme at Bouley Bay.
"It's best to go on a mid to low tide to see the most marine life, but you can snorkel there at higher tides too due to the minimal currents and swells in the bay.
The dive centre is there you can hire equipment if you don't have it.
They also offer guided tours for those who don't want to go out on their own."
More than 400 primary school children will also be taking part in an education programme.
It'll involve 14 sessions, including classroom lessons, swimming classes and a guided snorkel tour at Portlet or Bouley Bay.
Toyah Tomkins, from Bouley Bay Dive Centre, says it's a unique offer.
"I believe it's important to encourage young people to develop different skills and get them in the ocean in a safe manner. We need to inspire the future generation of ocean ambassadors and ensure they spread the message that we need to protect the fragile marine environment."
Kathryn says it's important for the island's youngest to get to understand the waters around them.
"It's so valuable for kids to not only gain that skill of snorkelling and gain confidence in the water but also to immerse themselves and learn about our marine life.
It's teaching the future ocean ambassadors and trying to inspire them to protect our amazing marine life."
An app is also being launched for people on land to learn about what lives under the waters, which can be downloaded via QR codes on signage around the bay.
The first snorkel is happening at 3pm on Saturday 27 May and islanders are invited to bring their own snorkel gear.