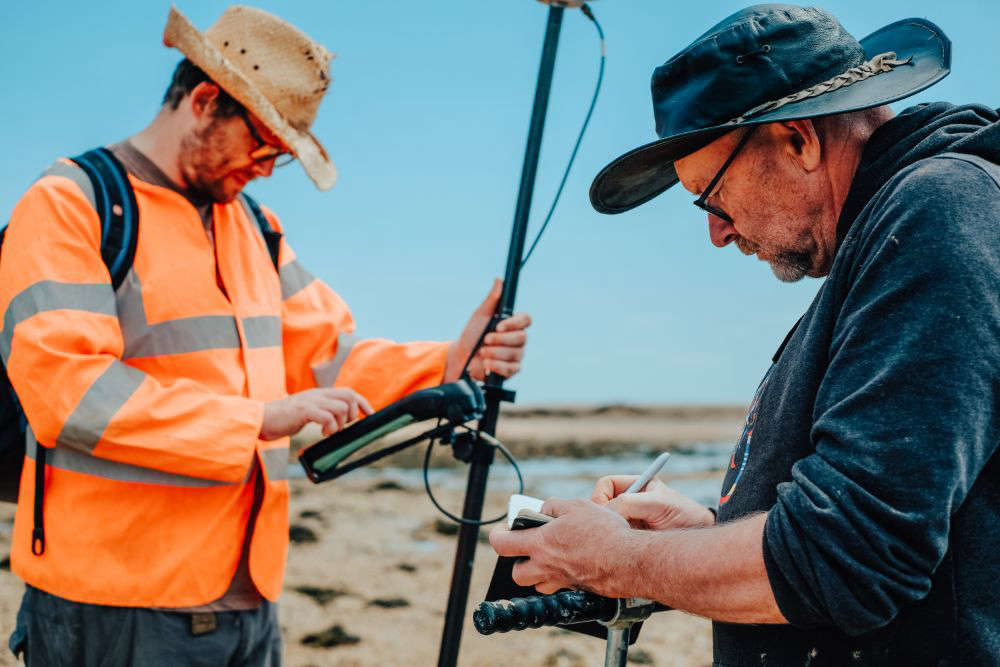 Credit: Melissa Rodrigues Photography
Seymour Tower off Jersey's south east coast has this this week been home to a team of archaeologists.
They are investigating the area of seabed, a rocky reef known as Violet Bank some 4.5km from shore - for signs of life 6,000 years ago.
Previously discovered evidence suggests the sediments from ancient Ice Age landscapes lay hidden beneath the sands and shingle.
Dr Matt Pope is leading the study:
"People from Jersey have been finding artefacts out here - stone artefacts left by prehistoric people -for over 100 years.
What we want to find is where those artefacts are coming from and try to find sediments that preserve evidence of what was growing here, what animals where here, and maybe some of the living places of those people. This is just the first stage of what will hopefully be a long term project.
Two Jersey scientists - Dr Arthur Hill and Dr Paul Chambers - have for years been mapping blue clays out here, within the granite. The granite has been holding these clays for perhaps a quarter of a million years. So we know if we see the clays there is ancient Ice Age sediment. And then we use our eyes, and our experience, to look amongst all the billions of pebbles for those that are stone artefacts."
Dr Pope says it's a difficult environment to work in - between the tides.
"We are controlled entirely by the tides. There is a lovely low tide in the middle of the night, but of course it's dark so we miss out on that.
Lots of constraints. There is the added danger of these lightning storms we have been having and we have to be safely back (in Seymour Tower) when the storms are happening so it is a real challenging landscape to work in."
The Jundland wastes are not to be traveled lightly. pic.twitter.com/NrZiGY98vl

— Dr Matt Pope (@MatthewPope) May 18, 2022
This is going to be ok, right? pic.twitter.com/pbyNZbDjaj

— Dr Matt Pope (@MatthewPope) May 18, 2022
The survey was originally due to take place in 2020 but was delayed due to the Covid-19 pandemic. It is funded by the British Academy and Leverhulme Trust, and supported by Jersey Heritage and the Société Jersiaise.
"This ambitious survey is the type of work that demonstrates the importance of Jersey's geoheritage and the huge part it plays in the Island's story and explaining how it has been shaped by tide and time. La Cotte de St Brelade has already established Jersey on the international map and we can't wait to see what this new research reveals about the Island." - Millie Butel, Jersey Heritage's Landscape Engagement & Geopark Development Curator.